An interview with Sloky-sloky: we ain't Duran-duran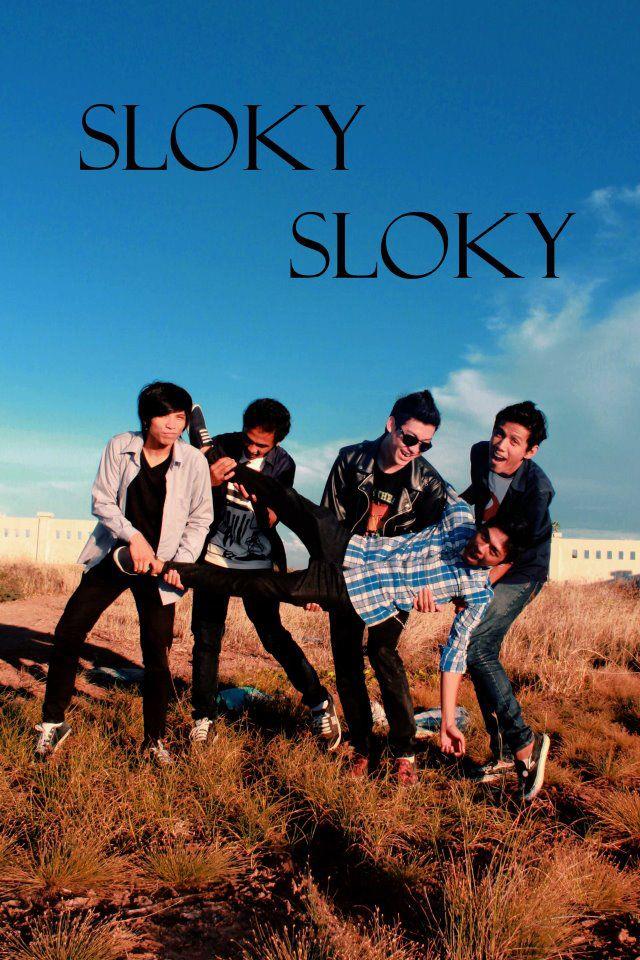 After five times frustrated by cancellations, Ansri Handayani from GMA Media Team eventually succeeded ensnaring the three members of the 5-piece band: Sloky-sloky in an interview which held in Pak Nek Coffee Peunayong.
The emerging band from Banda Aceh is consisted of Indra-indra (lead vocal), Rony-rony (lead guitar), Ozy-ozy (guitar), Becky-becky (bass) and Nawir-nawir (drums).
Ansri: Guys! Thank you for coming and not asking me to reschedule this interview..AGAIN!!!  Hahaha… I found out you guys have reduplicated your own names, just like your band name. What's the story behind that?
Rony-rony: Well I think it's cool! And rest of the flock agreed for having reduplication name the same way the band named.
Ozy-ozy: Sorry for the cancellations! We were abducted by the aliens.
Becky-becky: True!
Ansri: Hahaha.. Can you tell me why you picked Sloky-sloky as the band name?  
Rony-rony: For instance, Ozy will answer this.
Becky-becky: True!
Ozy-ozy: Back to 2010. It was in May, we gathered in purpose to set up a new band. Nawir, Rony and Indra just disbanded their previous band, Refresh. Becky quit from Etiquette,  and me needed some new band activities after my band MCR (My Chicken Robot) was put on an indefinite hiatus.  We sit and talked for hours but didn't find any concurrence about the band name. Until Indra proposed a toast.. well it was a toast with the coffee… and he said: Raise your sloki (shot glass)! Cheers to us! Then… it was "sloky" picked as the new band name. Indra made it as Sloky-sloky because he thought it's really cool and reminded him of Duran-Duran. But for sure, we are not Duran-duran. Our music is different.
Becky-becky: Hahaha… True!
Ansri: Ok! I think it's cool .. ehem (clearing throat) .. too!!! I see a list of impressive achievements in your brief biography. 11 band competition winnings in 2010-2011 with 7 in 2011 alone. Wow! Did you guys form this band only to compete another bands? And where were you in 2012? 
Rony-rony: Hell nooo! Hahahaha… It's a fluke. We've been focusing in making our album. I'll give you the sample cd of our materials later. That's why we're off in 2012. But not really off. We won another motorcycle brand's band competition in November 2012 and played in some gigs too.
Becky-becky: It's true!
Ansri: Are you going to publish that with GMA Records, our soon-to-be-launched indie record company? And what kind of musical genre do you play?
Rony-rony: Yes yes yes! We were contacted and we agreed. We play vary from pop to rock, alternative to rock n' roll.
Becky-becky: True!
Ansri: Great! Ok guys. It's nice to meet you all.  I can't wait to hear your sample cd. Thank you for coming. See you!
Ozy-ozy: Yeah, you too!
Rony-rony: See you!
Becky-becky: mmmh … True???
(AH)
BRIEF BIOGRAPHY:
3.
Name
:
Ozy-ozy (Fachrur Rozi)
Birth
:
Medan , 13 – 01 – 1990
Address
:
Jln, Sakti Punge Blang Cut , Banda Aceh
Instrument
:
Guitar
Twitter
:
@ro_zzy
 ACHIEVEMENT:
The Most Favorite Band in Kedai Coklat Music Parade (2010)
Runner up of Festival Band Say No To Drugs (2010)
Winner of  Yamaha Funtastic Band Competition (2010)
Winner of Festival Band Aceh Anti Aids (2010)
3rd Champion of Yamaha Mio Spektakuler (2011)
3rd Champion ofYamaha Road Music Festival (2011)
Winner of Festival Honda Band Competition (2011)
Winner of Festival Band MusicHolic Aceh Fair (2011
Winner of Aceh Band Festival By Nagaswara (2011)
Winner of New Honda Blade Band Festival (2011)
Winner of Yamaha Road Music Festival Se-Sumatera (2011)
Winner of Honda Band Competition (2012)