Bless the Knights Successfully Held Their 2nd Anniversary Party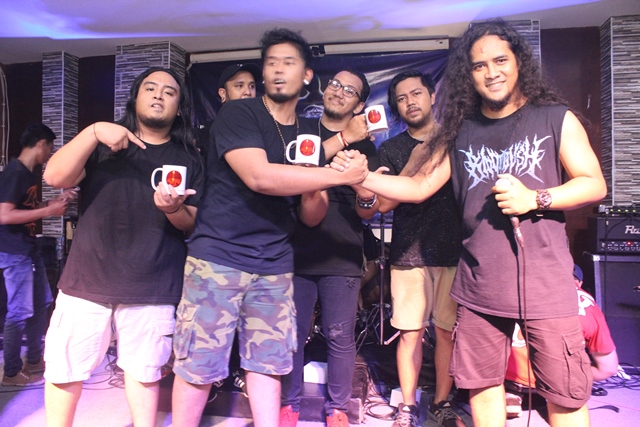 It's interesting to wait and see the information update of Bless the Knights anniversary party, which was highly promoted on social medias, radios, or even their management maneuver through their main motors (Fritz Faraday, Olgie and Hendrix) who were very actively promoting this event at least a month before the date.
It is well proven, their hard work was well paid after seeing tremendous metalheads coming to Warung Deebong, Sunday night, April 9, 2017.
Java Metalheads, friends and families, and colleagues from other metal bands as well as journalists whom medias partnering with this event were coming down to support the event.
The opening act, Last Blood, burned spectators' adrenaline with their female vocalist. Followed by Feels and Standpoint, which were also heating up the moshpit by their hardcore breakdowns.
The next line up was Jakarta-based death metal veteran Corporation of Bleeding. Bassist Chimenz and guitarist Reno played attractively with their brutal guitar riffs alongside the deep growling vocal of their vocalist, Porry Chaesar.
Surprisingly, Bless the Knights started their performance when the adrenaline of the crowd was on peak condition. Their guitar shredding duo, Fritz Faraday and Olgie Alvianus tore the audio system with fast riffs, complicated melodies and conceptual syncopation.
Their new lads, Opic (drums) and Berry Heyder (vocals) were also getting crazy with their respective performances. The band was having two guest bass players that night: Arry Thrizna and Mondy Mamentu, the latter is also a guitarist.
There were gimmicks initiated by the insane MC Allay Error by giving the band chance to do the Tumpeng Procession (traditional Indonesian rice cake) as well as announcing their new lads, Berry Heyder and Opic. The band received gifts from The Warung Deebong represented by Fear Crisis' frontman Jimmy Wildblood.
In the very moment, Bless the Knights officially launched their new single entitled Dunamous, comes from the Greek meaning "The Power that came from God".
It was even more rousing as the headliners of this event Paper Gangster, Anastasya and Gore Infamous, performing that night. Their different genres created a sensational feeling to every metalheads partying that night.
The Bless the Knights 2nd Anniversary Party then reached its end. MC Allay Error delivered a closing statement on behalf of the band and its management, expressing gratitude and thanks to all party attendees. Furthermore, seen that the lads of Bless the Knights were interviewed by some media partners of the event.
Light up the FIRE! Happy anniversary Bless the Knights!
(Photos: BTK)