Creepy: The Ultimate Underground Compilation #2 is out now
Artikel mengenai rilisan ini dalam Bahasa Indonesia dapat dibaca di tautan berikut: Biji Kopi Records rilis Creepy: The Ultimate Underground Compilation #2
Independent label company Biji Kopi Records released the second installment of Creepy: The Ultimate Underground Compilation on May 29, 2017. This is the first album for Biji Kopi Recods after a three-year pause since the last release.
Ten bands from three countries Indonesia, Malaysia and Brunei, submitted their masterpiece.
Brunei-based melodic death metal Senjakala is featured in this very album, marks a come back after disbanded in 2006. Femme-fatale Sam Siren recorded her rich and unique voice, showcasing her classical and jazz vocal trained.
Since its inception in 1999, Senjakala has released an EP titled Rise Above All before split up in 2006. Former members then established two new eminent bands Karacoma and Reverence.
Senjakala was  reformed in 2015.
With new formation consists of Sam Siren (vocals), Mawie (guitars), Yusri (guitars), Nami (bass) and Adi (drums), the band has been working with new materials for upcoming album, Musik.or.id has learnt.
The Creepy: The Ultimate Underground Compilation #2 partaking marks the first opportunity for death/black metal Kherow to share the legacy of their late bassist Barr Austin who demised on April 22, 2017. The album assures Barr's musical spirit lingers on.
Kherow was founded in 2000 in Serawak, Malaysia and released first single Melodramatic of Raging War in 2003. The band went on hiatus in 2004 and reformed in 2007. Drummer Afdzal became the sole original surviving member.
In December 2010 they released debut full-length album Bintang Timoer through Faithcraft Productions. The last line up is composed of Zizie (guitars), Andy (guitars), Carolina (vocals), Iman (keyboards), and Afdzal (drums).
Jakarta's symphonic progressive/Gothic metal band Crystal Dream is on the verge of releasing their third full-length album through Interlude Records. Founded in 2006 in North Jakarta as Letter from Within, the band has two full-length self-released albums Diary of Fallen Angel (2013) and Reaching the Dream (2016).
The band's current line up consists of two original members Imam Agustine Ferdinand (drums) and Rudi 'Asen' Sentosa (guitars) along with Bobby Angga Lesmana (keyboards), Agnes Meghan (vocals), and Ian Gonya (bass).
Another band who listed in the very album is AMARANTH, a symphonic metal band from Depok. Founded as Kesatria Templar in February 2015, the band made huge make over in March 2017: name and line up changing.
A promotional CD is scheduled to release in June 2017, preceding their upcoming debut album. The latest formation comprises Firly (vocals), Ilham (keyboards), Muhammad Ibnu Sina (guitars), Abdul Herry (drums), Agus Bakri (bass), and Andien Anggraeni (vocals).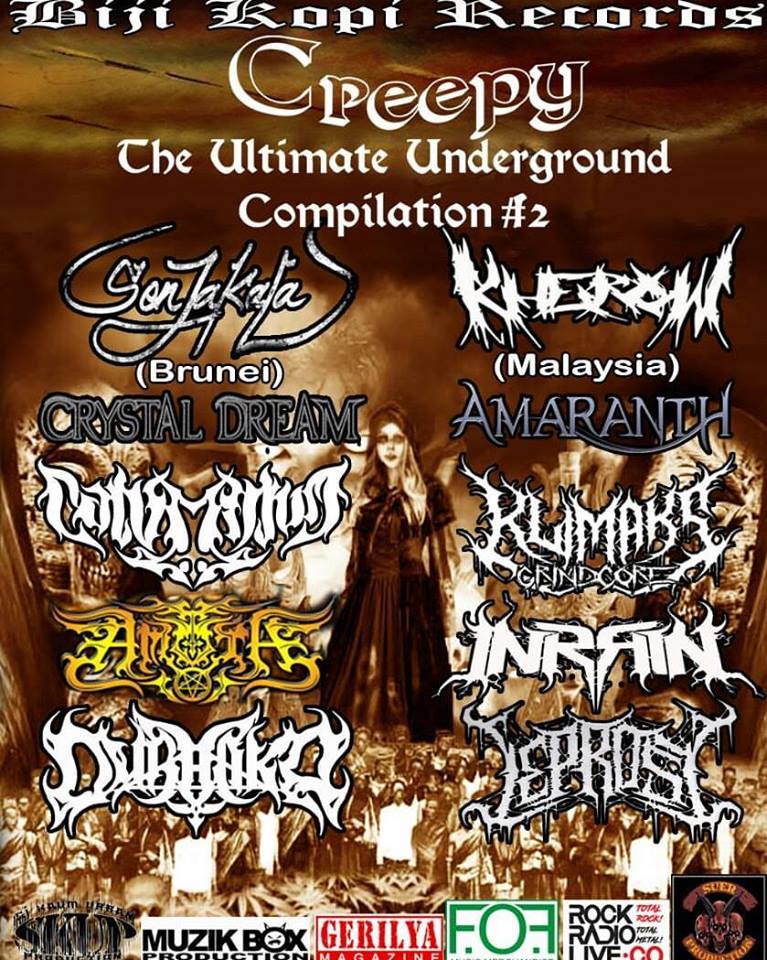 LINE UP
(no track list is available)
SENJAKALA
KHEROW
INRAIN
AMARANTH
AMOTH
CRYSTAL DREAM
CALVARIUM
KLIMAKS
LEPROSY
DURHAKA
The album is distributed in Malaysia, Brunei and Singapore by Muzik Box Production.
Biji Kopi Records was founded in 2009 by Dairi-born Eva Elroy Situmorang. To date, the independent label has released Sounderblast Compilation (2010), Extreme Brutal Violence #4 "The End of Killed" (2010), Divine Hatred's EP Borneo Disaster (2012), And Metal For All (2013), and Creepy:The Ultimate Underground Compilation (2014).
The CD is available for IDR 50K and official t-shirt is sold for IDR 130K. Biji Kopi also releases a bundling CD+T for IDR 150K.
For inquiry, the label could be reached at +6285762545067.
*****