East Wild Militants adakan Journey to the South Chapter
East Wild Militants akan mengadakan Journey to the South Chapter, sebuah gig underground pemanasan sebelum even South Chapter diadakan. Even perndahuluan ini akan berlangsung hari ini Sabtu, 13 Mei  2017 di Deep Insight Keys Corner (DIKC) Cafe, Jl.Balonggede No.42, Bandung, Jawa Barat dari pukul 13 WIB hingga jam 7 sore.
Delapan belas band UG ngetop di sekitaran Bandung, terdaftar di roster sementara. yang akan berbagi panggung menunjukkan kebolehannya di hadapan khalayak pencinta musik sangar. Even kali ini bertemakan "let the past buried".
Read English article about this show here: Journey to the South Chapter
Opic Dead dari Grindingpunk Corporation berbicara dengan www.Musik.or.id mengenai show tersebut. Dia mengatakan East Wild Militants merupakan sebuah aliansi dari beberapa komunitas underground di sekitar Bandung Raya, termasuk komunnitasnya juga. Aliansi ini berdiri bulan Desember  2015, dan sudah mengadakan banyak acara sejak kelahirannya.
Gitaris Warkvlt tersebut mengungkapkan South Chapter akan dilangsung di bulan Juli nanti.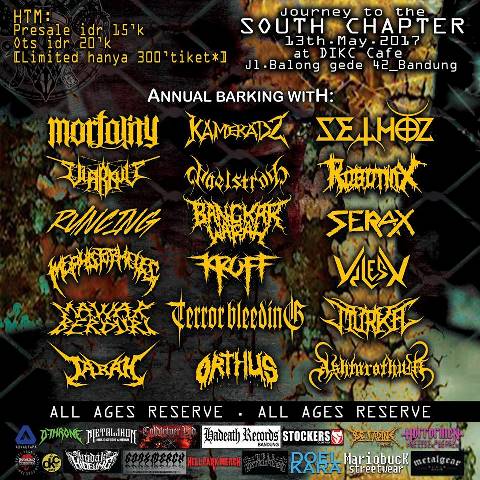 LINE UP
MORTALITY
WARKVLT
MEPHISTOPHELES
MAWAR BERDURI
JARAH
KAMERADZ
MAELSTROM
BANGKAR WARAH
KROFF
TERROR BLEEDING
ORTHUS
SETHOS
ROBOTNIX
SERAX
VILEST
MURKA
ASHTAROTHUM
Tiket pra-pesan tersedia dengan jumlah terbatas seharga lima belas ribu perak. Sedangkan harga normal sebesar 20 ribu rupiah. Untuk info lebih lanjut mengenai even ini,penyelenggara dapat dihubungi di 088218411404 atau BBM d720de33.
*****