HNS presents Hip Hop Jam V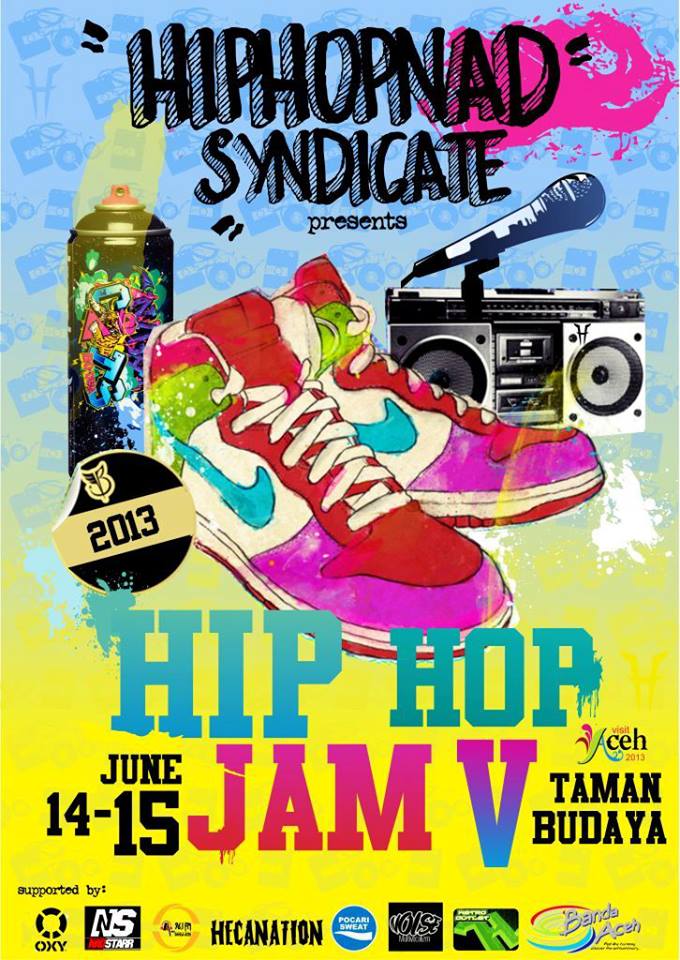 Hip-Hop NAD Syndicate (HNS) will bring the fifth installment of Hip Hop Jam on 14 and 15 June 2013, at Taman Budaya's Teater Arena, as part of their fourth anniversary celebration. The largest Hip-Hop festival in Aceh is offering a bunch of activities to please the Acehnese hip-hop scenes.
The Hip Hop Jam V will showcase all five elements: MCing, DJing, Breaking, Graffiti and Beatboxing. Not only exhibitions, a series of competition and social acts will flavor the party.
The festival will feature international and local acts including Nainunis and NBC, NHS, App MC, Zico Nadstarr (Norwegia), Swerte (Dubai), ABC, DJ Rencong, DJ Redstarr, U3C, Audio Gram, and more.
HNS aims to fill the lack of good Hip-Hop events in Aceh, and promoting Hip-Hop culture by highlighting its positive aspects as  an instrument of artistic development by adopting and exploring Acehnese traditional arts; and healthy social interaction by putting a heavy emphasis on community building.
For further information about the show, please contact Afka 085370458115 ( Beatbox ), Rama 085277402802 ( Rap ), Pendy 085361554027 ( Breakdance ).
List of agendas and lineup:
14 June 2013, HIP HOP COMPETITIONS
1. MCing
Rap Battle ( solo vs solo )
Rap Competition ( solo and team ) 
2. Beatboxing
Battle ( solo vs solo )
Group Competition 
3. Breaking
1 on 1 Kids Battle Under 15 Year 1 on 1 B-boy Battle (all ages) 3 on 3 B-boy Battle  
15 June 2013,  HIP HOP JAM V
1. MCing
1. H.N.S ANTHEM | HNS | ACEH
2. BUNGONG JEUMPA ANTHEM | HNS | ACEH
3. APP MC | HNS | ACEH
4. ZICO NADSTARR | HNS | NORWEGIA
5. AQ-FLOW | 165, HNS | MEDAN
6. NANGGROE SIDE | HNS | BANDA ACEH
7. LOCO FAME | HNS | BANDA ACEH
8. ERMZE | HNS | BANDA ACEH
9. A.N.D CREW | HNS | BANDA ACEH
10. A HERO | HNS | BANDA ACEH
11. GIFRAN feat ARDI | HNS | BANDA ACEH
12. FANN | HNS | BANDA ACEH
13. R3D | HNS | BANDA ACEH
14. 5 LADY R A C | HNS | BANDA ACEH
15. 5 BOY R A C | HNS | BANDA ACEH
— Guest —
1. SWERTE | THE RECIPE | DUBAI
2. 165 NATION | MEDAN
3. HSC | SIGLI
4. BIG POWER CREW | PIDIE JAYA
5. DESIES ON ETNIC | BANDA ACEH
6. KSR | MEDAN
7. BATEE KURENG FAMILY | BIREUN
8. BIOS CLAN | BANDA ACEH
9. MAZDA GRAM | GRAM AUDIO FAMILY | BANDA ACEH
10. LNA Hiphop feat Boqyes | LHOKSEUMAWE
11. EZA AB | KHC | BANDA ACEH
12. LUHOP | LHOKSUKON
13. MIC | BANDA ACEH
14. 14 UNITED HIPHOP | BANDA ACEH
15. TAMIANG HIPHOP | TAMIANG
16. GRAM AUDIO FAMILY | BANDA ACEH
2. Beatboxing
— HNS —
1. ACEH BEATBOX COMMUNITY ( ABC) | BANDA ACEH session 1
2. ACEH BEATBOX COMMUNITY ( ABC) | BANDA ACEH  session 2
— Guest —
1. GENDANG MULUT | MEDAN
2. K-TOWN BEATBOX | ACEH TAMIANG
3. BETA | ACEH TAMIANG  
3. Breaking
— Hns—
NBC, RFR Full Kolaborasi Mulia Hikayat,Rapai,Sedati,Tob Daboh | BANDA ACEH
— Guest —
MOFFAT SQUAT SHUFFLE | ACEH TAMIANG |  
4. DJing
1. DJ RENCONG
2. DJ REDSTARR  
5. Graffiti
U3C | HNS | BANDA ACEH | LIVE PERFORMING