Journey to the South Chapter
Artikel mengenai even ini dalam Bahasa Indonesia dapat dibaca di tautan berikut: East Wild Militants adakan Journey to the South Chapter
East Wild Militants will organize Journey to the South Chapter, an underground gig to precede the core event South Chapter. The preliminary event takes place on Saturday, May 13, 2017 at Deep Insight Keys Corner (DIKC) Cafe, Jl.Balonggede No.42, Bandung, West Java, from 1 PM to 7 PM.
Eighteen well-established underground bands around Bandung, listed in the current roster, will share the stage and showcase their talents and abilities to extreme music enthusiasts. The event's theme is "let the past buried".
Opic Dead from Grindingpunk Corporation talked to www.Musik.or.id about the show. He said East Wild Militants is an alliance of some underground communities around Greater Bandung area, including his own community. The alliance was formed in December 2015, and has been holding many gigs since its inception.
The Warkvlt's guitarist revealed the core event South Chapter will be held in July 2017.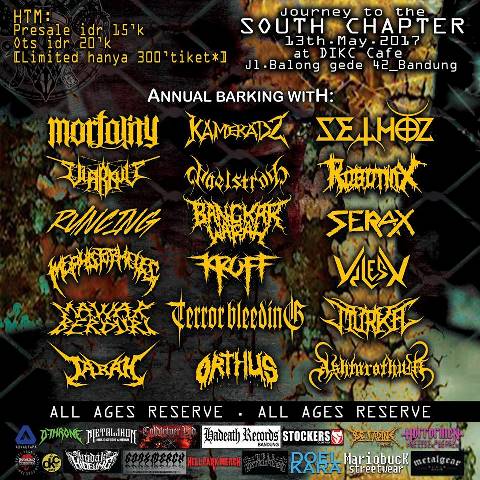 LINE UP
MORTALITY
WARKVLT
MEPHISTOPHELES
MAWAR BERDURI
JARAH
KAMERADZ
MAELSTROM
BANGKAR WARAH
KROFF
TERROR BLEEDING
ORTHUS
SETHOS
ROBOTNIX
SERAX
VILEST
MURKA
ASHTAROTHUM
Limited early bird tickets are available for IDR 15K. The normal ticket will be available at the venue entrance for IDR 20K. For further inquiries about the show, the organizer can be reached at 088218411404 or BBM d720de33.
*****