SCG to celebrate 19th anniversary at Kemboel Soekohardjo 8
Sukoharjo Corpse Grinder brings back its flagship event series Kemboel Soekohardjo. This time, the eighth installment will be extraordinary since the society celebrating its 19th anniversary there.
The Kemboel Soekohardjo VIII will be held on Sunday, August 6, 2017 at Budisasono Hall, Sukaharjo, Central Java, featuring 22 bands from around former Surakarta Residency area, Klaten, Bekasi, Jakarta, and Malang. The show will start from 10 AM until stopped.
The festival showcases big names for headliners such as Panic Disorder (Jakarta), Viscral (Bekasi), Stagnated (Malang), Salahuddin Al Ayubi (Solo), The Working Class Symphony (Solo), Ash Anger (Cikarang), Sadistic Butchered (Sukoharjo) and Lamphor (Klaten).
Artikel mengenai even ini dalam Bahasa Indonesia dapat dibaca di tautan berikut: SCG rayakan HUT ke-19 di Kemboel Soekohardjo 8
None of the original members are in the current line up, but nothing can stop Panic Disorder to enjoy their 23 years of triumph with maturation and wisdom, thanks to its guardians bassist Ketut Budi and guitarist/now-frontman Joky, who maintain the band to keep rolling since their arrival in 1997.
To date, Panic Disorder has published 2 EPs and 3 full-length albums i.e. EP Bleeding One of the Mortal Throne (2000), Ilustrasi dari Bab Sadis (2004), Choir of Horror (2007), Choir of Horror (2011) and Daimonion(2016).
Panic Disorder was founded in 1994 by Toto Handrawan (vocals), Baonk (bass), Romy (guitars), and Aly (drums). The last formation consists of Ketut Budi (bass), Joky (vocals), Atenx (guitars), Amri Putradjaja (guitars), and Sobron Haki (drums).
2017 marks a decade of contentment for Viscral, a Bekasi-based brutal death metal act. The four-piece savage metallers have been ruling most metal fests in its hometown and other places since the released of debut full-length album Egocentric Underneath of Horror in 2015. The debut was published by Rottrevore Records.
Founded in 1997, the band's current line up consists of Eggi Pradia Wiguna (vocals), Yogi Praja Bimantara (drums), Liga Radensha (guitars), Adrel Jatnika (guitars), and Dwiky Dzarendrastyo (bass).
Solo metalcore heroes Salahudin Al Ayubi is on the eve of releasing their most anticipated sophomore full-length album entitled Stronghold. The band will perform some of them in this very show.
Since its inception in 2009,  Salahudin Al Ayubi has released EP 13 Years (2009), The Lion Of The Desert (2014), and EP The Martyr (2016). The latest known formation is shaped by Machda (bass), Sukma (drums), Hasyimi (guitars), Anton (guitars), and Mufti (vocals).
Bestial and untamed materials from Malang-based brutallist Stagnated has drawn prominent label company Dismembered Records to secure a deal with the trio, to release their future debut EP sometime this year.
The Kemboel Soekohardjo 8 spectators will be pleased having a sneak peek of the Stagnated's EP materials. The band was founded in 2015 by Hannan (bass), Andrey (drums) and Rico (guitars).
Newly founded metalcore act Allaryce is geared up and ready to perform their precise anthem Hatred Creation at the Kemboel Soekohardjo 8, and probably accompanied by another tracks from their forthcoming EP.
Allaryce was formed in Solo in 2016 by Salahudin Al Ayubi's guitarist Titis Waskito and drummer Putradi Pamungkas. They recruited another former Salahudin Al Ayubi's member, frontman Ridwan Sugondo and Fariz Hasbi (bass) later.
****
Dwi Cahyono from Sukaharjo Corpse Grinder stated to Musik.or.id, the Kemboel Soekohardjo was organized for the first time in 2005, then followed by the second issue a year later. It's being paused for six years until the society organized the third installment in 2013. From that time, the event series has become an annual event once again, until now.
Dwi who is known under moniker Blowoh told us the society was established in 1997 by Adi Simon and Anton. To date, Sukoharjo Corpse Grinder has organized many events like Metalground, Sukoharjo Konslet, Romance Februari, Soeara Djoeang, Sukoharjo Neverfall , Summer Fest, Kemboel Soekahardjo, etc.
Blowoh is frontman of Sukoharjo-based brutal death metal act Sadistic Butchered. The band was established in 2013 as Hematuria by Blowoh (vocals), Nanang Slamet Dwianto (guitars), Yoga (guitars), Laksono (bass) and Vian (drums). This formation lasted in 2012, when Yoga and Laksono parted ways with the band. Trio Blowoh, Nanang and Vian then dropped the name and picked up Sadistic Butchered as new brand.
Latest formation consists of Dwi "Blowoh" Cahyono (vocals), Nanang Slamet Dwianto (guitars0, Vian (drums) and Indra Sadewa (bass).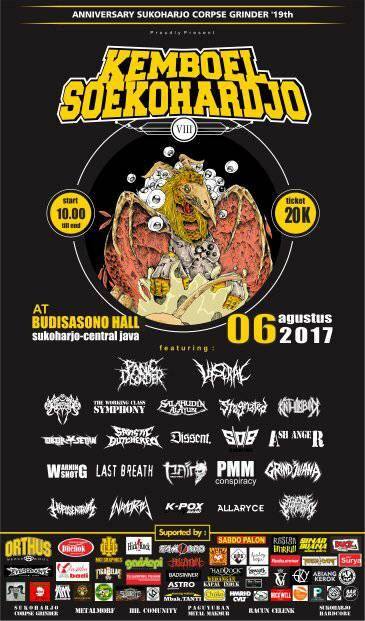 LINE UP
PANIC DISORDER (Jakarta)
VISCRAL (Bekasi)
LAMPHOR (Klaten)
SALAHUDIN AL AYUBI (Solo)
THE WORKING CLASS SYMPHONY (Solo)
STAGNATED (Malang)
ASH ANGER (Cikarang)
SADISTIC BUTCHERED (Sukoharjo)
OBOR SETAN (Sukoharjo)
S.O.B HC (Sukoharjo)
KINTHIL KIBINK (Sukoharjo)
LAST BREATH (Sukoharjo)
WARNING SHOT (Sukoharjo)
K-POX Band (Sukoharjo)
ALLARYCE (Solo)
PAIN (Sukoharjo)
INAMORTA (Wonogiri)
PMM CONSPIRACY (Sukoharjo)
HYPOSENTRUM (Boyolali)
SEVERAL EMASCULATION (Klaten)
GRIND JUANA (Sukoharjo)
DISSENT (Solo)
Ticket is available for IDR 20K each. For further inqury about this show, Dwi Cahyono can be reached at 089673381922 (texting, WA, phone) or BBM D025B055
This event is supported by Sukoharjo Corpse Grinder, Metalmorf, HH Comunity, Paguyuban Metal Makmur, Racun Celenk, Sukoharjo Hardcore,  Orthus Merch, Wr Dhenok, MCI Graphics, Hick Rock, Sabdo Palon, Resign Tomorrow, Evergroove, Garis Tepi, Hellcrown, Popo Chicken &  Duck, Intestinal Vomit, Gifs, Victograpict, Dialog Kopi, Samodro, Mustika Abadi, Zona13, Redsummer, Toko Surya, Apache Studio, Wr. Setia Tino, Just Call Me, Sinar Buana, Royal Coklat, Larisso SusuSegar, Tb Gamping Pilihan, Angkringan Sudut Kota, Straight Edges, BadSinner, Astro, Wr Mbak Tanti, Haddock, Wedangan Kapal Induk, Smooth, Chuko, Toucin Corner, Hammerhead Cvlt, Garasi, Rockwell, Wening Sport, Abiang kerok, Furniture Production, Punek Rockshop, Baraka, Applouze, and GBY.