Paguyuban Metal Makmur presents ANNIVERSARY VI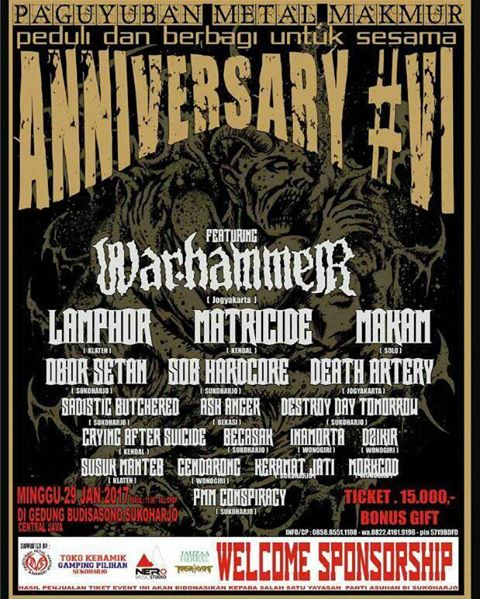 Sukoharjo loudest music community Paguyuban Metal Makmur will celebrate its sixth anniversary by throwing a party on Sunday, 29 January 2017 at Gedung Budisasono Sukoharjo, Central Java. This year party which is called Paguyuban Metal Makmur presents ANNIVERSARY VI will serve 19 scrumptious dishes to party attendees with special menu WARHAMMER from Jogjakarta.
PMM always do fundraising in its anniversary parties. This year beneficiary will be an orphanage in Sukoharjo. Tomo aka Leethod from PMM spoke to www.Musik.or.id about the PMM and its shows. He said PMM has been organizing many charity campaigns since its inception in 2009.
Before 2009, it was lack of metal music event in Sukoharjo. PMM was designed to create more events and gatherings for metal music enthusiast in the regency. Sukaharjo had its first golden era in metal music development in 1999 to 2000 and then declined. It reached the second golden era in 2009, when more metal events coming up and more metal sub-genres growth.
List of event franchises that labored by PMM: Sukoharjo Death Fest, Sukoharjo Metalfest, Sukoharjo Badjoe Barat (black metal festival), and a triennial event Headbangers Fest. PMM also set up a charity concert for Merapi eruption victims in 2010.
PMM ANNIVERSARY IV – LINEUP
WARHAMMER (Jogjakarta)
LAMPHOR (Klaten)
MATRICIDE (Kendal)
MAKAM (Solo)
OBOR SETAN (Sukoharjo)
SOB HARDCORE (Sukoharjo)
DEATH ARTERY (Jogjakarta)
SADISIC BUTCHERED (Sukoharjo)
ASH ANGER (Bekasi)
DESTROY DAY TOMORROW (Sukoharjo)
CRYING AFTER SUICIDE (Kendal)
BECASAK (Sukoharjo)
IMAMORTA (Wonogiri)
DZIKIR (Wonogiri)
SUSUK MANTERA (Klaten)
GENDARONG (Wonogiri)
KERAMAT JATI (Sukoharjo)
MORKGOD ((Wonogiri
PMM Conspiracy (Sukoharjo)
Tickets will be available at the entrance for IDR 15K. Every ticket holder will receive a special gift from the organizer.
For further information about the gig, you may contact Tomo at 0812-2518-5558.
*****