KREMATIST is a progressive death metal act from Jakarta, Indonesia. Founded in February 2011 in Kelapa Gading Barat, North Jakarta. The story began when metal veterans KRANDAMAYAT's guitarist and bassist Suharyono Herlambang a.k.a Benk and Sonny Sumbogo, respectively, met BURIAL's frontman Phuput and DEMON PRISON's drummer Uya. The four death metal musicians wanted to have a new band playing something more progressive.
The quartet wrote and recorded four songs.The recording session was held from August 2011 to December 2012, engineered by Satria.
The eponymous EP released in December 2012, and at the same time, all materials in the EP were listed in a split demo album December Destruction, with Jakarta-based death metal unit DOOM FOR BUTCHER. Purwokerto-based art-worker Jonrinz handled the EP cover.
The band started to promote the EP by playing in many gigs held in the neighborhood and around Java and gained favor from metal music enthusiasts. The Krematist employ Arief Dawen as additional guitarist since that time.
The band was listed in two compilation CD's published that year Dam Project Compilation (released by Amylee Production) and Philosophy II (released by Brother Banger Records).
In 2013, Krematist joined a compilation released by Metalharmony Production titled Metal Distorsi. The band was featured in a live DVD taken from Sumpiuh Mrindhink 10, a gig series produced by Cavalera Distro.
Phuput and Uya Departure
2014 saw Phuput left the band to join Jakarta's metal veteran GRAUSIG. Phuput replaced frontman Nanang who quit just before Grausig commenced their EP Feed the Flesh to All Who Suffered and Died recording session.
Uya followed Phuput's step to leave Krematist, starting a new family and relocated to another town. Phuput and Kuya's departure put the band in hiatus.
Sic Fanatic re-released the Krematist's self-titled album in March 2014. This time in cassette tape format.
Drummer Yugo stepped in to fill Uya's shoes in June 2014. Ade Hidayat from BURIAL CORPSE and KURUNG BATANG was hijacked and became the band's new vocalist in November 2014. Krematist was all set to hit the road again.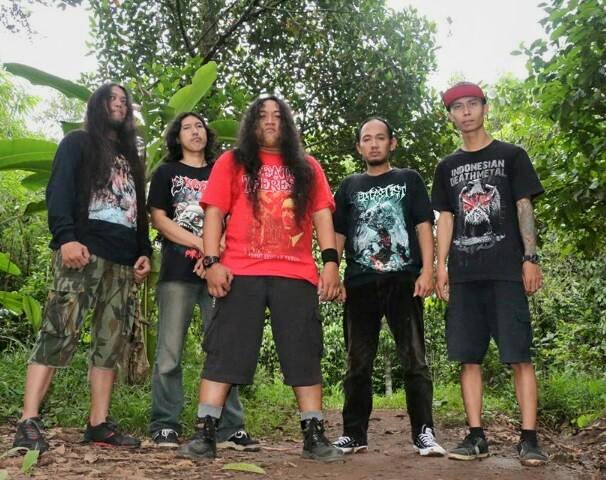 Despite the band's uncertain fate after Phuput and Uya parting way with the band, Krematist kept on rolling that year. They were featured in some Indonesian underground compilation CD's i.e. Indonesia Underground 3 (released by Edelweiss Production), Creepy Ultimate Underground Compilation (released by Bijikopi Records), and Metal Fanatik Compilation (released in cassette tape format by Sic Fanatic Records).
Bangkai Bumi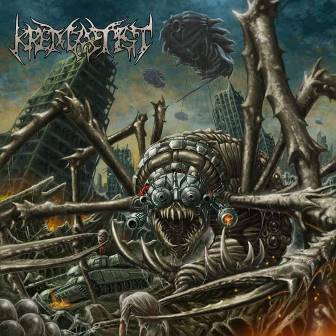 Krematist inked a deal to release their debut full-length album with MoonRat Production, a Jakarta-based independent record company in 2015. Benk and Ade re-wrote all lyrics from previous works with Phuput. Nine tracks were prepared to bring in into the new album.
The flock entered Bronze Studio Jakarta to commence the recording session in November 2015. Bronze's owner Anton Ferdi Hazairin acted as executive producer, and founder/owner of MoonRat Novianto Ariwibowo produced the whole tracks.
Leaving Stories/Push Pull's frontwoman Putri was featured in track Song of Dirty Mongrel. Bank Internasional Indonesia's vice president Anton Ferdi Hazairin recorded his guitar solo in Your Story Like Pirated Porno Movie. 
The album titled Bangkai Bumi was mixed and mastered by Choirul Imam from Vision Record. The recording session was wrapped up in August 2016.
The band employed famous illustrator Timbul Cahyono a.k.a Bvllmetalart to do the art cover. Cimenk Ferocite and Iwan Kurniawan were credited as logo and photography, respectively.
MoonRat released Bangkai Bumi in October 2016.
Recent Development
In March 2017, Yugo left the band for an undisclosed reason. Former Sine Anima's drummer Shandy Syam was recruited to fulfill the band current lineup.
In his interview with www.Musik.or.id, Benk described Bangkai Bumi talks about the devastation of the world.
He cited Death, Suffocation, Braindrill and Cynic give main influence to Krematist.
The flock has been writing new materials for their second full-length album.
***
MEMBERS
CURRENT MEMBERS
Ade Hidayat – vocals (2014 – present)
Suharyono Herlambang – guitars (2011 – present)
Sonny Sumbogo – bass (2011 – present)
Arif Dawen – guitars (additional, 2011 – present)
Shandy Syam – drums (2017 – present)
FORMER MEMBERS
Phuput – vocals (2011 – 2014)
Uya – drums (2011 – 2014)
Yugo – drums (2014 – 2017)
DISCOGRAPHY
ALBUM
2012 – EP Krematist (self-released)
2014 – EP Krematology (cassette tape version of EP Krematist, Sic Fanatic Records, Jakarta)
2016 – LP Bangkai Bumi (MoonRat Production, Jakarta)
SPLIT/COMPILATION
2012 – VA – Dam Project (Amylee Production, Jakarta)
2012 – December Destruction (split with Doom For Butcher, Segitiga Prod, Jakarta)
2012 – VA – Philosophy II (Brother Banger Records, Jakarta)
2013 – Metal Distorsi (Metalharmony Production, Jakarta)
2014 – Indonesia Underground 3 (Edelweiss Production, Jakarta)
2014 – Creepy Ultimate Underground (Bijikopi Records, Jakarta)
2014 – Darkness Hours (Tukang Bakar Mayat Production, Jakarta)
2014 – Metal Fanatic (cassette format, Sic Fanatic Records, Jakarta)
DVD/Other release
2013 – Live from Sumpiuh Mrindhink (Cavalera Distro, Banyumas)
 CONTACT INFORMATION:
Facebook: Krematist Indo
Reverbnation: Krematist Indo
Twitter: @Krematist
Booking: 088214109691
Address: c/o MoonRat Production, Jl. Agung Barat 34 # 17, Sunter Agung Podomoro
Jakarta 14350
*****