RETALITION is a death metal band from Sungai Penuh City, Jambi Province, Indonesia. It was formed unnamed in August 2013 as frontman Deri Okayama and guitarist Johannes Hart 's jamming project, playing various music genres.
But, it changed its direction into a serious band, focused in playing death metal in 2015 and named the band as RETALIATION.
Retaliation then became part of Sungai Penuh Metal Squad (SPMS), a prominent metal scene in Sungai Penuh City.
Since there were so many musical acts shared the same name, they decided to pun it into RETALITION.  They recruited bassist Dimas Aries Putra and drummer Mahendra Saputra in the very year.
Inspire The Moment
2016 saw breakthrough for the young band career. Their first single Mati Terpenggal was listed in two regnant compilation CDs, i.e. REVENGE OF GURINDAM, released by Pekan Baru-based RGB Productions; and PETENG THE DEATH by Rottenflesh Record (read about Rottenflesh Record in THIS article).
The band commenced to record its first full-length album in April at ACO STUDIO in Sungai Ning, Sungai Bungkal sub-district, Sungai Penuh. The album featured seven new songs plus Mati Terpengal. The recording and mixing was finished in November 2016, and Rottenflesh Record released the album titled Inspire the Moment in January 2017.
Deri said the idea of the first full-length album title INSPIRE THE MOMENT was the band would like to share the inspiring moment in having a real album to any of their listeners. All the eight songs were written by him.
Inspire the Moment – Track Listing
1.Intro (Inspire The Moment)
2.Mati Terpenggal
3.Agresi Kebebasan
4.Minang Darahku
5.Ditikam Menikam
6.Fenomena Intimidasi
7.Perang Dendam
8.Ilustrasi Pembantaian
**
Deri Okayama in an interview with www.Musik.or.id stated RETALITION becomes its members' first serious band since they did not play in a regular band before until they join forced.  He mentioned DEHUMANIZED, DEVOURMENT, INTERNAL BLEEDING and SUFFOCATION as the band's main influences.
To promote the album, RETALITION will do a promo tour in 2017. A transient list of cities to stop are confirmed. Starting from Lubuk Linggau (02/25), Batam (03/18), Padang (03/19), and Jambi (03/24). The band waits for more cities to confirm. It is also scheduled to headline the fourth installment of PETENG THE DEATH gig series on 29 June 2017 in Cilacap, Central Java.
Deri disclosed RETALITION is now back to studio to record new tunes for their second album. It seems the band will not rest until next year.
Recent Development
Retalition has lost guitarist/co-founder Johannes Hart and drummer Mahendra Saputra in April 2017, due to their commitment at works. 1
Upon Joe's departure, Dimas Aries Putra has switched his ax from bass to guitar. Previously played with Retalition as live player, Raju Anugrah from Bacterial Disease then recruited as the band's definitive bassist in March 2017. Darkness Squad's drummer Gilang Pratama joined subsequently when Mahendra Saputra left in April.
Gilang's tenure in Retalition was very short, Temenggung's drummer Wigo Hernando stepped in and being introduced on June 21.
The new lineup's maiden gig was at Party of Screaming, organized by Bottom Squad on July 29 at Afdeeling F Kersik Tua, Kerinci.
Footnote:
1. Updated on August 9, 2017 ~ Retalition works on sophomore album with new lineup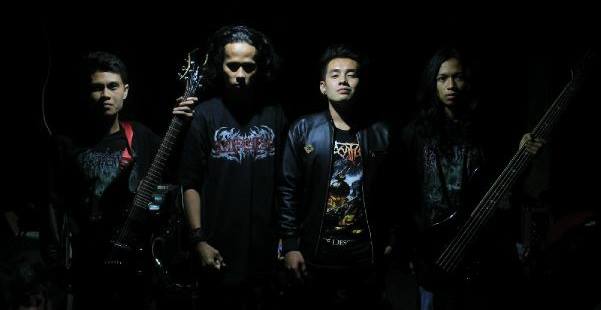 MEMBERS
CURRENT MEMBERS
Deri Okayama– vocals (2013 – present)
Dimas Aries Putra – bass (2015 – 2017), guitars (2017 – present)
Raju Anugrah Zubakir – bass (2017 – present)
Wigo Hernando – drums (2017 – present)
PAST MEMBERS
Johannes – guitars (2013 – 2017)
Mahendra Saputra– drums (2015 – 2017)
Gilang Pratama – drums (2017)
DISCOGRAPHY
2016 – VA – Revenge of Gurindam (RGB Productions)
2016 – VA – Peteng the Death (Rottenflesh Record)
2017 – RETALITION – Inspire the Moment (Rottenflesh Record)
CONTACT INFORMATION
Facebook: RETALITION Death Metal
Email : dimas_cmc(at)yahoo.com
Reverbnation: RETALITION
Instagram : retalition_official
Booking: 087793137977 / 5F99AEC1
Address: Studio Rama, Lingkungan 5/RT 15, Kelurahan Sungai Penuh, Kecamatan Sungai Penuh, Kota Sungai Penuh, Provinsi Jambi, Indonesia.
*****