Promoter announces to relocate BANDUNG BLACK METAL #4 to a new venue
Artikel mengenai event ini dalam Bahasa Indonesia dapat dibaca di link berikut: Panggung BANDUNG BLACK METAL #4 pindah ke lokasi baru 
The ABYSSIA ORGANIZER announced today (03/04) the BANDUNG BLACK METAL #4: Return Blackness will relocate to a new venue.
Gugum from ABYSSIA spoke to www.Musik.or.id, the promoter decided to move the venue from Fame Station to K2 Bar & Resto, Jl. Dewi Sartika, Bandung due to an undisclosed technical reason. Gugum, leader of Cadas Underground cited the new location is exactly in the downtown, offers conveniences for everyone.
There is no big changing in schedule and line up. Seventeen black metal bands are scheduled to darken the atmosphere in K2 Bar and Resto on Sunday, April 9, 2017 from 12 AM till finish.
Adriel Ramdhani a.k.a Lordt Asht from Black Mass "Blacker than Darkness" Community in February, said Bandung Black Metal franchise was the brainchild of Gugum and friends from Cadas Underground. It was organized for the first time at Kopo Shopping Centre Hall, Bandung in 2015. The gig was intended to unite the black metal music enthusiast in Greater Bandung area.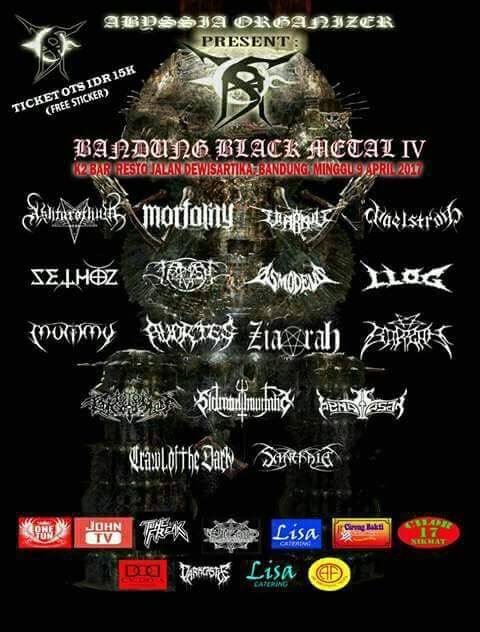 FINAL LINE UP
WARKVLT (Bandung)
ASHTAROTHUM (Bandung)
MORTALITY (Bandung)
MAELSTROM (Bandung)
IMPISH (Bandung)
MUMMY (Bandung)
SETHOS (Bandung)
CRAWL OF THE DARK (Bandung)
ASMODEUS BDM (Bandung)
AVORTES (Bandung)
ZIARAH (Bandung)
BARZAH (Bandung)
LLOG (Tasikmalaya)
SANEKALA (Bandung)
PENATASAN (Cilacap)
SIDROTUL MUNTAHA (Majalengka)
KARUHUN IBLISH (Bogor)
Tickets are available for IDR 15k at the venue entrance. Any ticket holder will receive a BBM 4 sticker. For any inquiry about the show, you may contact Andriz at his BBM 5F0B34E3.
The Bandung Black Metal 4 is supported by: One Tun Kaos Polos, John TV, Tone Freak,Wizard Production, Darkcastle, Cireng Bakti, AF Production, CV. DO'A, Lisa Catering, and Cilor 17.
*****
Read previous article about Bandung Black Metal 4 here