Road to Jakarta Sounderground: Monster from East
A series of warm-up events to precede a new metal extravaganza titled Jakarta Sounderground: Monster From East, will be held starting from August until the core event takes place in October 2017, Predator Production stated in a press release today (7/23).
The event's proprietor schedules a gig titled "Road to Jakarta Sounderground" to be held on Saturday, August 12, 2017 at Grand Charly Bekasi Cyber Park, Bekasi, from 3 PM until finish.
Artikel mengenai even ini dalam Bahasa Indonesia dapat dibaca di tautan berikut: Tribute untuk James, Budi dan Denny di "Road to Jakarta Sounderground"
The promoter dedicates  The Road to Jakarta Sounderground as a tribute concert to three metal veteran musicians who demised last May. Fifteen well-known metal bands from around Jakarta, Bekasi, Sukabumi and Purwakarta, will pay homage to fellow late best friends singer James Budiyanto (ex-Grausig), guitarist Budi Ridwin (Slimer, ex-Grausig), and Reax's frontman Ramadhanny Hussein (also ex-Rotor).
James Andri Budiyanto, Grausig's frontman in their debut EP Feed the Flesh to the Beast (1994) and debut full-length album Abandoned, Forgotten, & Rotting Alone (1999), died on May 7, 2017 by road accident.
James also made a come back to Grausig and recorded his voice on the band's 2013 EP In the Name of All Who Suffered and Died, before quit for the second time.
Budi Ridwin Nasution was known as guitarist/founder of another Jakarta-based death metal veteran Slimer. With Slimer, Budi has released a full-length album titled Otak Sampah in 2011.
He joined Grausig later replacing Ricky Wisisena and became key-player in Grausig's 2013 EP In the Name of All Who Suffered and Died. The EP was dedicated to the late Bobby Faisal, who demised in 2011. Bobby played bass for Slimer and Grausig, and later founded Reborn Damnation.
Budi Ridwin also played in another project named OldTimers. Budi demised on May 29, 2017.
Ramadhanny Hussein, Reax's frontman/guitarist and former Rotor's bassist, died by heart attack on Friday, May 5, 2017. Denny who fronted Reax since 1993, also be part of Rotor's last reformed line up. With Reax, Denny produced EP From the Past in 2016.
****
Musik.or.id conducted an interview with Predator Production's founder Hendrix Diablo today, talked about his production company. He said the company was established on November 22, 2013 as an event management, later became a label company, and released Jakarta-based nu metal act S.A.B.O.R 's debut studio album Berjaya Karena Dihina.
As an event management, Predator has organized some events such as United Party, Timur Rock Society, Sound of Distortion, to name a few. Predator also held the album launch parties for S.A.B.O.R, Grausig's 2016 Di Belakang Garis Musuh and Bless the Knights's eponymous album (2016). The company also managed the two latter promo tours.
In 2016, Hendrix became Bless the Knight's manager.
Hendrix revealed there will be more warm up events for Jakarta Sounderground to be held after the tribute concert i.e. two concerts in September and Live Talk Show with IRS Radio.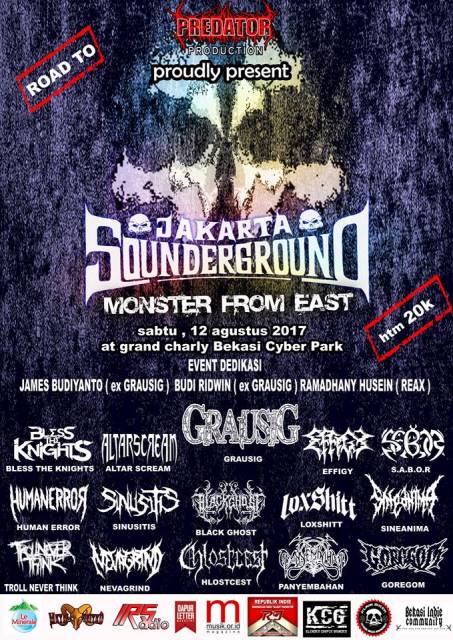 LINE UP
  GRAUSIG
S.A.B.O.R
BLESS THE KNIGHTS
HUMAN ERROR (Sukabumi )
EFFIGY
ALTAR SCREAM
SINUSITIS
SINEANIMA
LOXSHIIT
TROLL NEVER THINK
PANYEMBAHAN
NEVAGRIND
HLOSTCEST 
BLACKGHOST
GOREGOM (Purwakarta)
On the spot ticket is available for IDR 20K. For further information about the show, Predator Production can be reached through Bbm DA75D34E.
This event is supported by Le Mineral Water, Metal United, Acara.co.Id, Musik.or.id, Dapur Letter, Irs Radio, Republik Indie, Klinik Bucek, Klender Corpse Grinder, and Bekasi Indie Comunity.
*****