Singapore to witness Angelcorpse headlining Morbid Metal Festival III
Singaporean will have their first and last chance to see American blackened death metal legend Angelcorpse this Sunday, July 23, 2017 at the third installment of Morbid Metal Festival III (previously entitled Morbid Fest).
Angelcorpse is scheduled to headline the show and share the stage with Japanese Anatomia, Shambles (Thailand), Sarakkas (Malaysia), and three "Singahell" dark legions Balberith, Ilemauzar and Blasphemation.
Angelcorpse will embark on their first and last Asia and Oceania tour, titled Extermination 2017, from 22nd July to 6th of August, starting in Bangkok and concluded in Manila.
Eleven Asia/Oceania dates are part of The Angelcorpse 20-year reunion shows that will end in Metal Mean's Fest – Brussels on August 19.
The band was formed in 1995 by Pete Helmkamp (bass/vocals), guitarist Gene Palubicki, and drummer John Longstrether. To date they have released 4 full-length albums Hammer of Gods (1996), Exterminate (1998), The Inexorable (1999) and Of Lucifer and Lightning (2006).
They had dissolved twice in 2000 and 2009, and reformed in 2006 and 2015.
Last formation consists of Pete Helmkamp (bass, vocals), Gene Palubicki (guitars), Andrea Janko (live/drums), and Karnak's Francesco Ponga (live/guitars).
Angelcorpse's The Extermination 2017 Asia leg is handled by Singapore-based booking agent Vent Box Productions.
Tokyo-based Japanizu desu metaru bando Anatomia presumably will give Singaporean metal aficionados a sneak peek of their future third full-length album titled Cranial Obsession, subject to be released by Nuclear War Now sometime this year.
Anatomia was founded in 2002 by drummer Takashi Tanaka and guitarist Yoshio Hasegawa, both from now-defunct Japanese death metal veteran Transgressor, and ex-Sadondeth bassist Jun Tonosaki. The band has released two studio albums Dissected Humanity (2005), Decaying in Obscurity (2012), EP Shreds of Putrefaction (2009), compilation CD Dead Bodies in the Morgue (2013), and plenty of split albums.
Current line up comprises Takashi Tanaka (drums/vocals), Jun Tonosaki (bass/vocals), and Yukiyasu Fukaya (guitars/vocals).
Old-school death metal Shambles from Thailand is in the midst of launching new release entitled Primitive Death Trance. Since its inception in 1997 in Samutprakarn, the band has released a bunch of demos until their endeavor came to fruition in 2016: published debut studio album Realm of Darkness Shrine.
The Bangkok-based Shambles' latest line up is shaped by Thinnarat Poungmanee (drums), Chainarong Meeprasert (vocals), Issara Panyang (guitars), Thotsaphon Ayusuk (guitars), and Kairudin (bass).
Malaysian Sarakkas is a black metal project of guitarist Az-arm Purunistic and frontman Mohammad Akhir (known under pseudonymous Akhirov ov Heyrold). The band will have a set list contains dark repertoire from their demo CD Summon the Evil God, released in September 2016.
Mohammad Khalid Sulaiman, the proprietor of Morbit Metal Festival shares real life with his alter-ego the cult Khaal, a demonic evil creature who fronts Singahell black metal Balberith, who has been dwelling around since 2004.
Lord Khaal, who formerly played drums for the malicious Balberith, has surrendered his batons and switched to new axe: electric guitars, since 2010.
The prolific Balberith has released EP Legion ov Terror (2006), Triumph ov Beastial Dominator (2009), EP Beast ov Hell (2010), Darkness.Death.Legion (2012), EP Death Squad (2014), and Krushing the False Idol (2015).
Last known formation consists of Khaal (vocals, guitars), Haslam (drums), Joardy (bass), and Hazathoth (guitars).
Ilemauzar will decimate the Morbid Metal Festival with guest drummer Tremor (ex-Impiety), who in charge to keep the right pulse to prevent the world from to stop spinning around. The band's drummer Maelstrom is unavailable due to his previous commitment with Silent Knight to support its European tour.
The band started in 1996 as a black metal band and played extensively in the underground gigs in Singapore and Malaysia. A demo titled, Pit of Despair was recorded in 1997 with 3 tracks strongly influence from the Greek style of metal in the veins of Rotting Christ and Varathron. The 1998 demo release scored a full length record deal with then kvlt label, Dark Artz Releases (Singapore).
A full length was recorded in 1999 titled, Ancestral Shadows, but was never released due to the closure of the recording studio.
The band split in 2000 and went into a hiatus for 13 years. Upon reforming the band, Ilemauzar was offered a slot for Rock in Solo 2013 New World Propaganda which happened on November 3, 2013. At that time, Maelstrom from Australia also filled in the duty as Ilemauzar's drummer and has been with the band since then.
Ilemauzar released debut full-length The Ascension through Sepsis Records in September 2016 and now working for new album.
The current line up consists of Bloodcurse (vocals), Maelstrom (drums), Nivlek (guitars), Zeon Tee (bass) and Asmodeus (guitars).
*****
The Morbid Metal Festival franchise was established as Morbid Fest in 2012, vomiting local dangerous bands such as Thorns of Hate, Deleted, Balberith, etc. The fest took place on March 2, 2012 at Hood Bar and Cafe.
After the overwhelming success of the first edition, Ravage Records organized the second installment on June 13, 2013 at Silver Club. This time American Sadistic Intent and Finish Archgoat co-headlined the fest.
Lord Khaal from Ravage Records in his recent interview with www.Musik.or.id revealed he planned to bring back the Morbid Metal Festival after he met Pete Helmkamp during Party.San Metal Open Air 2016 in Schlotheim, Flugplatz Obermehler, Germany on August 11-13, 2016.
"Actually I met Pete in Party.San (in Germany) last year, before that we did have a discussion regarding Asia tour. So, from then it happens," he said.
Ravage Records is the only extreme music store in Singapore, founded in 1998.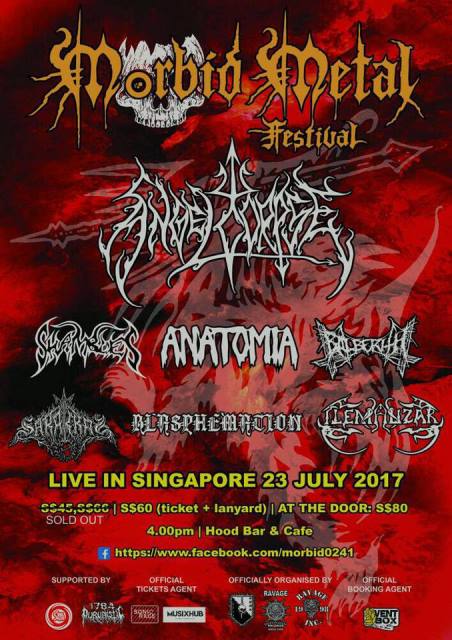 LINE UP
ANGELCORPSE (USA)
ANATOMIA (Japan)
SHAMBELS (Thailand)
SARAKKAS (Malaysia)
BALBERITH (Singapore)
ILEMAUZAR (Singapore)
BLASPHEMATION (Singapore)
*****