Stopkontak set to release debut at Lottemart Jatake
Artikel mengenai even ini dalam Bahsa Indonesia dapat dibaca di tautan berikut: Stopkontak luncurkan debut Leaving The Last Decade
Tapluck Production will hold a special gig again, after the great success of last event Sound of Goddess, held on April 30, 2017 at Lottemart Jatake, Tangerang.
This time, at the same place, Tapluck will organize a launch album party for long time friend Stopkontak, a hardcore act from Tangerang.
Thirteen fellow bands will accompany Stopkontak to celebrate the monumental moment, launching their debut Leaving The Last Decade on Saturday, May 13, 2017.
The album is dedicated to Stopkontak's late drummer Bagus Junantoro, who passed away in February 2016, right after the band finished the recording sessions.
Leaving The Last Decade is a reward for their dedication and determination since its inception in 2004.
The album recording session was commenced in 2014 and finished in the end 2015. Stopkontak hired Noiseless Record Studio and Artva Studio, also did some works in their own home studio. Dodi and Sebrink from Artva Studio did the mixing and mastering. Fellow Kubil Noiseless designed the cover art.
Stopkontak was formed by Arif (vocals), Doblong (guitars), Kodok (bass), Amin (guitars), and Toink (drums). Now the band consists of Hadi (bass), Ari (guitars), Ario (vocals), and Ubay (drums). None of its original members is in the current line up.
Guitarist Ari Eka Prasetya in his interview with www.Musik.or.id said they chose Leaving the Last Decade as the debut name because it marks the band journey for over a decade. He added the album is released by the band's own label Sand Record.
Ari cited bands like Nofx, Terror, Madball, Sick of it All, to name a few, are giving heavy influence to Stopkontak.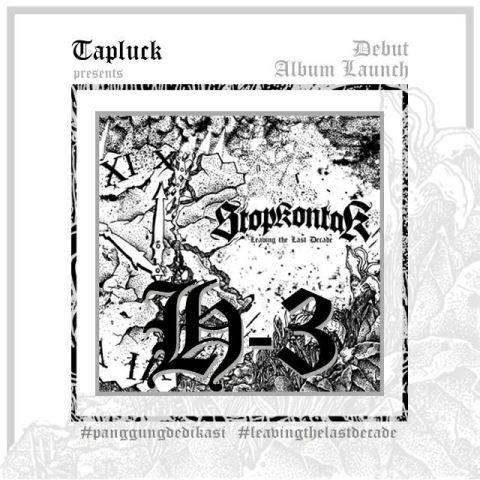 LINE UP
STOPKONTAK
INJECTED
HUMANIMAL
REJECTED KIDS
KILOMETER
DETECTED OVERALL
SEPATUARA
THRIVE
TRAPPED OUTSIDE
KRABBY PATTY
TABIK
FINGERSTRONG
OUR DISTANCE
SENOPIT
Early bird ticket is available for IDR 25K, and normal one for IDR 30K.
For more inquiries about the show you may contact the organizer at 089628626994 or BBM 595F33B6.
Tapluck Production was established in 2010. To date, Tapluck Production has renown shows such as Tangerang Metal Festival, Rockin Friendship, Distortion Brotherhood, Sound of Freedom, Sound of Goddess and Hyperblast gig franchise.
*****