Support KILLA THE PHIA untuk Hammersonic Festival 2014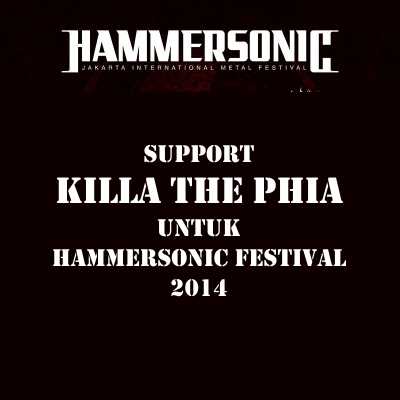 Kugiran metal asal Aceh, KILLA THE PHIA mengikuti sebuah polling kontes yang diadakan oleh Sepsis Record, dimana pemenangnya akan diikutsertakan ke dalam lineup Hammersonic Festival 2014 yang akan berlangsung pada hari Minggu, 27 April 2014 di Lapangan D Senayan Jakarta. Ajang yang sangat bona fide ini akan menyertakan 35 band metal dunia dan Indonesia.
Sepanjang pengamatan acehmusician.org, hingga berita ini diturunkan (Minggu, 16 Maret 2014), baru dua band yang mengikuti polling ini, yaitu KILLA THE PHIA yang jelita dan satu lagi band asal Bandung, Warkvlt.
Untuk mendukung KILLA THE PHIA, kamu cukup membuka link ini —> VOTE dan klik vote button di halaman paling bawah.
Voting dilakukan sebelum tanggal 15 April 2014.
Ayo, mari support KILLA THE PHIA!!!!!