The fifth installment of HELLPRINT UNITED DAY will be held in this March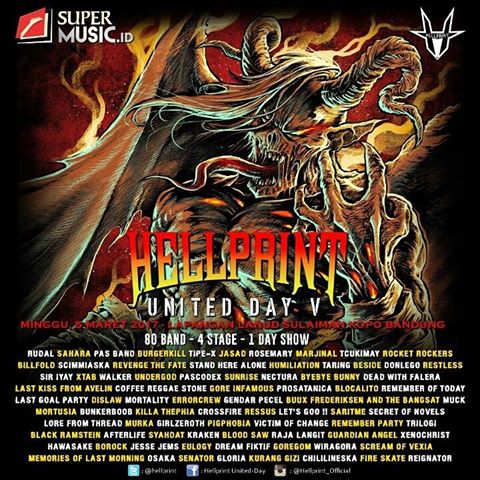 The fifth installment of one of the most important music festival in South East Asia, HELLPRINT UNITED DAY will be held on Sunday, 5 March 2017. The one-day show was originally scheduled for Sunday, 5 February, but has been postponed due to the renovation delays of the prearranged Tegalega Field Bandung, a venue that was used for the previous issue.
The promoter relocated the show to Sulaiman Military Airbase Bandung, which had hosted the 3 first installments.
There will be 80 well-established bands from all over Indonesia performing and sharing 4 stages in this year issue. Big names like RUDAL, SAHARA, PAS BAND, BURGERKILL, TIPE-X, JASAD, ROSEMARY, MARJINAL, TCUKIMAY, and ROCKET ROCKERS are among the final long roster that was announced by the organizer.
HELLPRINT UNITED DAY franchise was started in 2011 and drew Indonesian music enthusiast attention for its fat famous lineup and big venue. The festival continued for next two consecutive years in 2012 and 2013 until it took a two-year break and revived in 2016 with then new venue Tegalega Field Bandung.
The festival draws more than 30,000 attendees each edition.
FINAL LINEUP
RUDAL
SAHARA
PAS BAND
BURGERKILL
TIPE-X
JASAD
ROSEMARY
MARJINAL
TCUKIMAY
ROCKET ROCKERS
BILLFOLD
SCIMMIASKA
REVENGE THE FATE
STAND HERE ALONE
HUMILIATION
TARING
BESIDE
DONLEGO
RESTLESS
SIR IYAY
XTAB
WALKER
UNDERGOD
PASCODEX
SUNRISE ( Jakarta )
NECTURA
BYEBYE BUNNY
DEAD WITH FALERA
LAST KISS FROM AVELIN
COFFEE REGGAE STONE
GORE INFAMOUS
PROSATANICA ( Jakarta )
BLOCALITO ( Jogyakarta )
REMEMBER OF TODAY ( Jakarta )
LAST GOAL PARTY ( Jakarta )
DISLAW
MORTALITY
ERRORCREW ( Jakarta )
GENDAR PECEL ( Karang Anyar )
BUUX FREDERIKSEN AND THE BANGSAT ( Bandung/Bali )
MUCK
MORTUSIA ( Cianjur )
BUNKERBOOB ( Purwokerto )
KILLA THEPHIA ( Banda Aceh )
CROSSFIRE ( Samarinda )
RESSUS
LET'S GOO !!
SARITME
SECRET OF NOVELS
LORE FROM THREAD
MURKA
GIRLZEROTH
PIGPHOBIA
VICTIM OF CHANGE
REMEMBER PARTY
TRILOGI ( Cimahi )
BLACK RAMSTEIN ( Sukabumi )
AFTERLIFE ( Subang )
SYAHDAT ( Bekasi )
KRAKEN ( Bogor )
BLOOD SAW ( Tasikmalaya )
RAJA LANGIT ( Cianjur )
GUARDIAN ANGEL ( Karawang )
XENOCHRIST ( Jakarta )
HAWASAKE ( Serang )
BOROCK ( Ciamis )
JESSE JEMS ( Sumedang )
EULOGY ( Tanggerang )
DREAM FIKTIF ( Garut )
GOREGOM ( Purwakarta )
WIRAGORA ( Indramayu )
SCREAM OF VEXIA ( Cirebon )
MEMORIES OF LAST MORNING ( Banjar )
OSAKA ( Majalengka )
SENATOR ( Jakarta )
GLORIA
KURANG GIZI
CHILILINESKA
FIRE SKATE
REIGNATOR
Early bird tickets are now available for IDR 25K in HELLPRINT OFFICIAL STORE, Parahyangan Plaza Lt.2 Alun-Alun Bandung; or  HELLPRINT OFFSET – GRINDING MACHINE, Jl.Pagarsih No.137 Bandung; and can be booked by phone at 08112263566.
This event is sponsored by Supermusic.id, a subsidiary of PT Djarum.