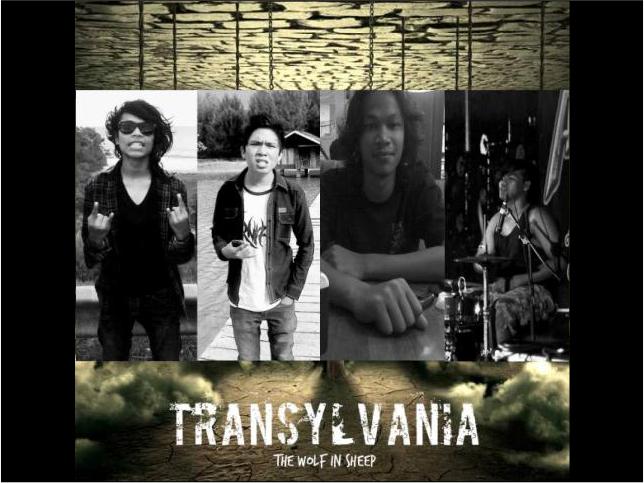 TRANSYLVANIA is a Banda Aceh-based deathcore act. The band was formed in 2009 as BLACK DEATH in Lhoksukon, North Aceh Regency, with the original line-up consisted of Rizky Boring (guitars), Rudy (vocals), Tommy (guitars), Rama (drum) and Ricky (synth). They were part of a clique in SMA 3 Putra Bangsa High School. Bassist Samsul Muarif joined them later.
The band parted ways with Rudy a year later during the band's preparation to record their first demo "Blinding in Hell". Tommy took the vocal duty and gave up the guitar position. Ricky also left the group, the then four-piece band recorded their first tune which was later included in Sriwijaya Metal Compilation, released in 2013.
BLACK DEATH was in an on-off situation after Rizky and Rama graduated their high school in 2010 and relocated to Banda Aceh to pursue their higher educations. Rizky and Rama occasionally came back to Lhoksukon to play in some local gigs, or Tommy and Samsul  traveled to Banda Aceh to allow BLACK DEATH's engagement in some gigs there.
The band was reunited in 2011 when Samsul and Tommy moved to Banda Aceh. But, due to creative differences, Rama left the flock in the very year. BLACK DEATH was put on a hiatus. Former SHITAKE's drummer Iwan joined the group in December 2011. It was a little weird since Rama departed BLACK DEATH to join SHITAKE.
The then line-up recorded their next single "It's Over" in now defunct-Black Crown Studio, in 2012. Samsul left the band and resided to Jakarta. The band started to employ some additional bassists. Former WAITING FOR THE KING's guitarist Adi , a Rizky's chum, joined the horde. Rizky and Tommy considered BLACK DEATH had no luck. They decided to liquidated it and forming a new band with the remain members.
TRANSYLVANIA was declared in January 2013 and the band saw a bright future when Samsul were back to Banda Aceh and re-joining them. But another obstacles were coming. Iwan left the band to focus on his own business. Tommy enrolled in National Police squad and had his intensive training for six months, and Samsul left the band for the second time. Rizky and Adi kept on working to write some new materials.
Atjeh Metal Fest 2013 became TRANSYLVANIA's first major gig. Tommy and Samsul joined Adi and Rizky in December 2013. Former DARK FUTURE's drummer Obond was recruited. The band made a plan to complete their debut album. They have been recording more materials in their own home studio and the album is scheduled to be released in the end of 2014.
TRANSYLVANIA is influenced by As Blood Runs Black, The Black Dahlia Murder and Suicide Silence.
CURRENT LINEUP
TOMMY – vocals
RIZKY BORING – guitars
ADI – guitars
OBOND – drums
SOCIAL MEDIA
Facebook – Transylvania Official
Reverbnation – Transylvania7
Twitter – @Transylvani_a