WARHAMMER is an Indonesian death metal band founded in Jogjakarta as GENITAL CAVITY in 2009 by frontman Adin Ahmad Ramadhani.
It began when Adin asked guitarist Bara Lintang Swastika, bassist Bayu Setiawan, and drummer Husein Khaidhor Musa, all were from now-defunct ROSOX BESI, to take part in a studio gig held by Jogjakarta Corpse Grinder. Adin found chemistry with the three and proposing to form a new earnest band called Genital Cavity.
Bara and Husein agreed to join force as a side project, but later left Rosox Besi for good since the pair were dissatisfied and felt it didn't make any progress, and made Genital Cavity as their main band. Okky Tambun joined as the band's bass player to complete the initial line up but exited a year later. Okky was unfit with the band's concept and decided to leave in 2010. Rosox Besi's Bayu Setiawan was called and engaged the flock once again.
In 2011, the quartet adopted a new name Warhammer and dumped the offensive Genital Cavity. They started writing their own songs and stopped being a cover band. According to Bara Lintang in his interview with www.Musik.or.id, the idea behind the band's new name was they would write more music with war as its main theme. The writing of this period resulted a single titled "Revenge" released in 2011, and four more songs which listed in a demo released by Jogjakarta-based independent label Ruckson Music Records on December 27, 2014.
Okky Tambun helped the band distributing the demo to some bigger labels. The demo caught the attention of Jakarta-based prominent extreme music label Brutal Infection Records, who then sealed a contract with the band. The label subsequently re-mastered two songs from 2014 Demo and released them in a limited promo album in 2015, as a full-length album was commenced to record.
Visual Antagonism
Warhammer entered Rockstar Studio Yogyakarta by the end 2015 to record songs for their debut Visual Antagonism.  The recording session was engineered by Donney Wagna whose portfolio including big names like FSTVLST, Endank Soekamti, Death Vomit, and Jamphe Johnson. Mixing and engineering was done by Fachrizal Tofano Yusviandra. Luthier and guitarist Ardian Nuril Anwar played lead guitar in track number 6: Dimension of Sorrow.
The album title was coined by Adin, who was also being the mastermind of the whole album concept. It tells the dark story of Indonesia abortive coup d'etat 30 September Movement, and the great purge of the Indonesian Communist Party members in aftermath of the infamous failed coup, in 1965.
Artist Rio Oscaryzm Bouty was in charge for the album cover which illustrated the atrocious event of the 1965 massacre.
Visual Antagonism was released on April 5, 2016 by Brutal Infection Records. A launch party was thrown on April, 26 at Jogja National Museum with special performances from fellow Jogjakartan well-known death metallers Death Vomit, Devoured, Detrivitor, Brainsuck, Excausated, Venomous and Treatment.
The album received positive reviews from some Indonesian zines.
Bara Lintang said Warhammer is influenced by Malevolent Creation,Vader, Bolt Thrower, Slayer, and Morbid Angel
CURRENT MEMBERS
Adin Ahmad Ramadhani – vocals (2009 – present)
Bara Lintang Swastika -guitars (2009 – present)
Bayu Setiawan – bass (2010 – present)
Husein Khaidhor Musa – drums (2009 – present)
FORMER MEMBER
Okky Tambun – bass (2009 – 2010)
CONTACT INFORMATION
Facebook: Warhammerband
Instagram: Warhammerdeath (hastag #warhammerdeath)
Twitter: @Warhammerdeath
Reverbnation: Warhammerband 
Booking: +62 83840425666 (Bayu)
Current Label: Brutal Infection Records
DISCOGRAPHY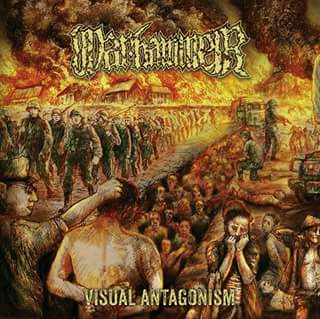 2014 – WARHAMMER – Warhammer Demo (Ruckson Music Records, Jogjakarta)
2015 –  WARHAMMER – Promo CD 2015 (Brutal Infection Records, Jakarta)
2016 –  WARHAMMER – Visual Antagonism  (Brutal Infection Records, Jakarta)
Track Listing
1. The Beginning (2:35)
2. Aggression (5:10)
3. Living Chaos (3:47)
4. Morbid Illusion (3:50)
5. Enslaving Mankind (4:45)
6. Dimension of Sorrow (4:35)
7. Burning Death (6:43)
8. Ruins to the Past (6:30)
9. Damned Souls (4:40)
10. Voice of Burial Ground (2:01)
11. The Last Revenge (5:02)