WE DO A PARTY #7: PESTA PERSAHABATAN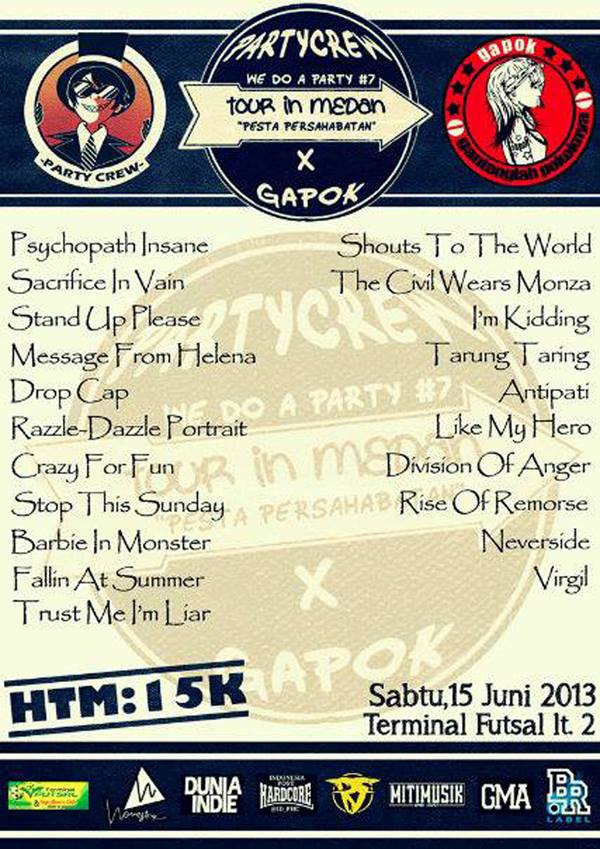 We Do A Party gig series will have its seventh installment happening in this Saturday, 15 June 2013. Unlike the previous concerts, the number seven will take place far-far away from its native town, Lhokseumawe. The 2nd storey of Terminal Futsal Medan is ready to host the show which titled WE DO A PARTY #7: PESTA PERSAHABATAN.
The gig owner Party Crew announced 9 Aceh-based bands (8 from Lhokseumawe  and 1 from Langsa) would invade the North Sumatera capital city, courtesy of their collaborator GAPOK, an organizer whose similar events are very well-known in Medan.
21 metal and punk bands will have their campaigns this Saturday :
LHOKSEUMAWE
Sacrifice In Vain
Im Kidding
Message From Helena
Anti Pati
Like My Hero
Crazy For Fun
Rise Of Remorse
Barbie In Monster
LANGSA
Shouts To The World
MEDAN
Psycopath Insane
Stand Up Please
Drop Cap
Razzle-Dazzle Portrait
Stop This Sunday
Fallin At Summer
Trust Me I'm Liar
The Civil Wears Monza
Tarung Taring
Division of Anger
Neverside
Virgil
For further inquiry about the gig,  Party Crew's spokesperson Tengku Bima Rafarali is available 24/7 at 085361151429, or following their twitter account @PartyCrewAceh, or by  checking their official website partycrewaceh.wordpress.com.