Dukung William Band di LA Lights Meet The Label
Band Pop-alternatif William asal Banda Aceh (baca profil mereka disini  Profile: WILLIAM BAND) berhasil masuk ke tahap 50 besar LA Lights Meet The Label 2013. Untuk mendukung William di dalam kompetisi ini sangat mudah. Cukup melakukan vote secara online di website LA Lights.
Dukungan dari seluruh masyarakat Aceh tentunya sangat diharapkan agar WILLIAM Band bisa masuk ke babak berikutnya yaitu babak Top 10.
Berikut cara memilih WILLIAM di  LA Lights Meet The Label:
1. Buka Link ini: http://www.la-lights.com/campaign/meetthelabels2013/william
Klik REGISTER di sebelah kanan atas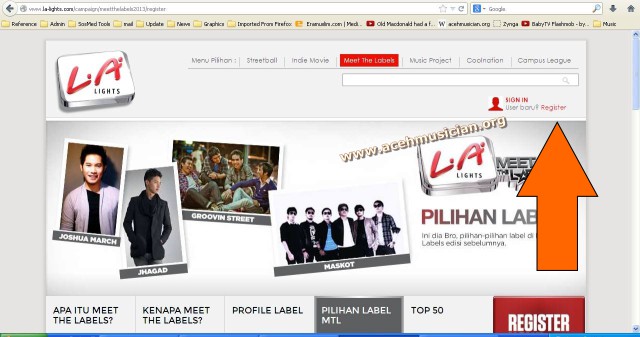 2. Sebuah layar pop-up untuk sign up akan muncul. Bisa juga melalui log in melalui sosial media yang disukai, facebook atau twitter. (Note: pengalaman redaksi walaupun sudah memilih log in melalui sosmed, tetap harus register dengan mengisi form sign up).
3. Buka e-mail dan check inbox. Akan ada sebuah email yang berjudul Register Confirmation. Apabila tidak muncul, coba check folder spam. Kemudian klik link yang ditulis disitu:
4. Buka kembali link ini: http://www.la-lights.com/campaign/meetthelabels2013/william . Lalu pilih VOTE disebelah kanan profile WILLIAM

5. Pop-up Extra point akan muncul jika kamu mau share melalui facebook atau twitter. Tick salah satunya.
6. Sebuah pop-up ucapan terim kasih akan muncul menandakan pilihan kamu sudah masuk.
7. William Band mengucapkan terima kasih atas dukungan kamu.