Biji Kopi Records rilis Creepy: The Ultimate Underground Compilation #2
Read English article about this album here: Creepy: The Ultimate Underground Compilation #2 is out now
Label independen  Biji Kopi Records merilis volume kedua dari Creepy: The Ultimate Underground Compilation tanggal 29 Mei yang lalu. Album ini merupakan yang pertama bagi Biji Kopi Recods setelah terakhir kalinya mengeluarkan album tiga tahun yang lalu.
Sepuluh band dari tiga negara Indonesia, Malaysia dan Brunei, menyertakan karya terbaik mereka.
Keikutsertaan band melodic death metal asal Brunei Senjakala di album ini menandakan kebangkitan kembalinya mereka setelah sempat bubar di tahun 2006.  Femme-fatale Sam Siren merekam suaranya yang kaya dan unik, yang merupakan buah dari latihan klasik dan jazz yang ditekuninya selama ini.
Sejak didirikan di tahun 1999, Senjakala sudah merilis sebuah EP berjudul Rise Above All sebelum akhirnya bubar di tahun  2006. Mantan personilnya kemudian mendirikan dua band baru yang tidak kalah terkenalnya Karacoma and Reverence.
Senjakala dibentuk kembali tahun  2015.
Dengan formasi baru berisikan Sam Siren (vocals), Mawie (guitars), Yusri (guitars), Nami (bass) and Adi (drums), band ini dikabarkan sedang mengerjakan materi baru untuk album berikutnya.
Bergabung di Creepy: The Ultimate Underground Compilation #2 merupakan kesempatan pertama bagi band death/black metal Kherow untuk membagi legacy almarhum pemain bassnya  Barr Austin yang meninggal 22 April 2017. Album ini menjamin semangat musik Barr tetap hidup.
Kherow didirikan tahun 2000 di Serawak, Malaysia dan melepas single pertama  Melodramatic of Raging War tahun 2003. Band ini kemudian vakum sejak  2004 dan dibentuk kembali tahun 2007. Drummer Afdzal menjadi satu-satunya personil asli yang bertahan.
Bulan Desember 2010 mereka menerbitkan debut full-length album berjudul Bintang Timoer melalui label Faithcraft Productions. Formasi terakhir terdiri dari  Zizie (guitars), Andy (guitars), Carolina (vocals), Iman (keyboards), and Afdzal (drums).
Band symphonic progressive/Gothic metal asal Jakarta Crystal Dream sedang menanti detik-detik peluncuran album ketiganya bersama Interlude Records. Sejak didirikan tahun 2006 di Jakarta Utara sebagai Letter from Within, band ini sudah merilis sendiri dua album full-length Diary of Fallen Angel (2013) and Reaching the Dream (2016).
Formasi anyar band ini terdiri dari  dua personil pendiri  Imam Agustine Ferdinand (drums) dan Rudi 'Asen' Sentosa (guitars) ditambah dengan  Bobby Angga Lesmana (keyboards), Agnes Meghan (vocals), and Ian Gonya (bass).
Band lain yang terdaftar di dalam album ini adalah  AMARANTH, sebuah band symphonic metal asal Depok. Didirikan sebagai Kesatria Templar di bulan February 2015, band ini mengalami perubahan besar bulan Maret lalu: berganti nama dan personil.
Sebuah promo CD dijadwalkan akan dirilis bulan Juni ini, sebagai pemanasan menjelang dirilsnya album studio mereka. Komposisi terakhir personil terdiri dari  Firly (vocals), Ilham (keyboards), Muhammad Ibnu Sina (guitars), Abdul Herry (drums), Agus Bakri (bass), dan Andien Anggraeni (vocals).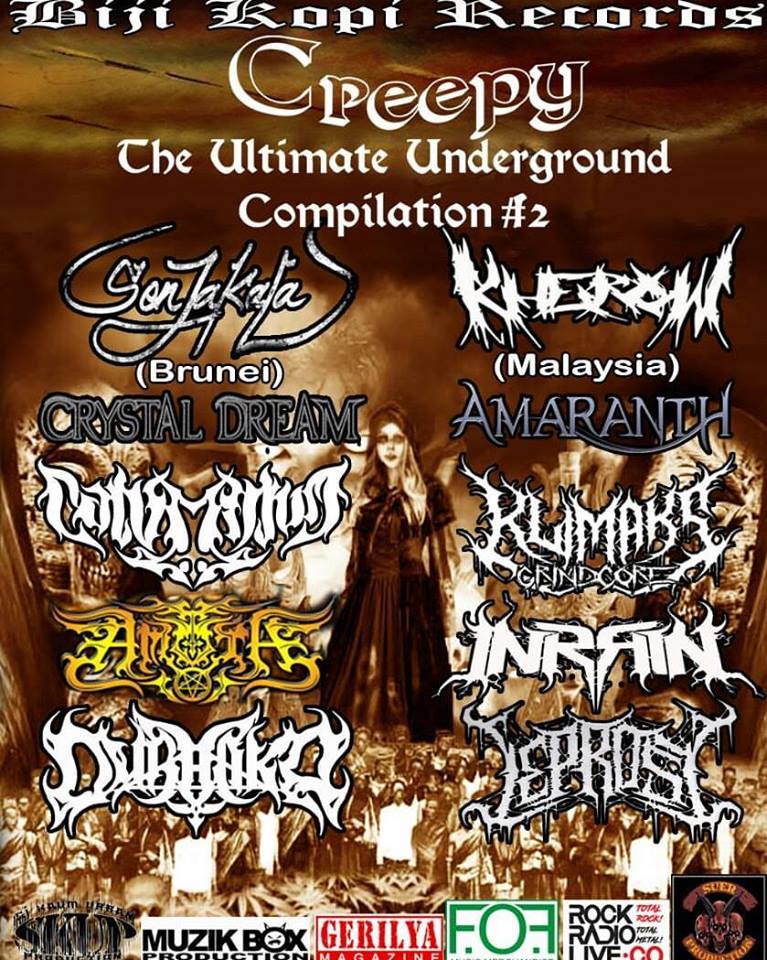 LINE UP
(judul lagu tidak tersedia)
SENJAKALA
KHEROW
INRAIN
AMARANTH
AMOTH
CRYSTAL DREAM
CALVARIUM
KLIMAKS
LEPROSY
DURHAKA
Album ini didistribusikan di  Malaysia, Brunei and Singapore oleh Muzik Box Production.
Biji Kopi Records didirikan tahun  2009 oleh cewek kelahiran Dairi, Eva Elroy Situmorang. Hingga hari ini, label in i sudah leluncurkan album  Sounderblast Compilation (2010), Extreme Brutal Violence #4 "The End of Killed" (2010), Divine Hatred's EP Borneo Disaster (2012), And Metal For All (2013), and Creepy:The Ultimate Underground Compilation (2014).
CD ini dijual seharga  IDR 50K dan t-shirt resmi dijual senilai  IDR 130K. Biji Kopi juga mengeluarkan bundel CD+T seharga IDR 150K.
Untuk pemesanan, Biji Kopi dapat dihubungi di nomor  +6285762545067.
*****