Indonesia Death Fest lineup Part 1
Twenty two renowned death metal legions from Indonesia, Singapore and Myanmar will march to South Jakarta, with full-loaded ammo to decimate the most sacred sanctuary for Jakarta metalheads: the Bulungan Outdoor, Blok M in a special occasion: Indonesia Death Fest! The concert will take place on July 30, 2017.
The line up for Indonesia Death Fest can be found below:
PANIC DISORDER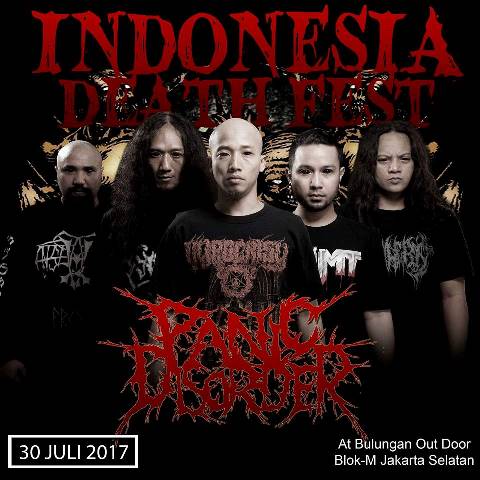 None of the original members are in the current line up, but nothing can stop Panic Disorder to enjoy their 23 years of triumph with maturation and wisdom, thanks to its guardians bassist Ketut Budi and guitarist/now-frontman Joky, who maintain the band to keep rolling since their arrival in 1997.
To date, Panic Disorder has published 2 EPs and 3 full-length albums i.e. EP Bleeding One of the Mortal Throne (2000), Ilustrasi dari Bab Sadis (2004), Choir of Horror (2007), Choir of Horror (2011) and Daimonion (2016).
Panic Disorder was founded in 1994 by Toto Handrawan (vocals), Baonk (bass), Romy (guitars), and Aly (drums). The last formation consists of Ketut Budi (bass), Joky (vocals), Atenx (guitars), Amri Putradjaja (guitars), and Sobron Haki (drums).
JASAD
Bandung-based death metal giant Jasad will play with their new drummer Oki Fadhlan (also plays with Stigmatuary) who replaced Abas early this year. Former drummer Abas was the key player on Jasad's high acclaimed third full-length album Rebirth of Jatisunda, released in 2013 by Extreme Souls Production. Abas parted ways with Jasad in July 2016 for undisclosed reason after 5 years became part of the band.
Speculations arose beyond Abas' departure. Metal drummer veteran Abah Andris, who just left Burgerkill was rumored to join force with Jasad. But the gossip had been faked with the band's Facebook announcement on January 26, 2017 about the new line up, with Oki as their new definitive drummer.
Jasad is enjoying their 27 years of success on metal music with three renowned full-length albums Witness of Perfect Torture (2001), Annihilate the Enemy (2005), and Rebirth of Jatisunda (2013); and 1996 EP C'est la vie.
Current line up consists of Man (vocals), Yuli (bass), Ferly (guitars), Reduan (guitars), Oky (drums).
KILLHARMONIC
Early 2017 saw Kediri-based Kilharmonic release fourth full-length album, marked the 20 years of triumph in Indonesian metal music history. Armstretch Records's catalog number ARM039 titled Hymn of the Apocalypsewas released on March 1, 2017.  Guitarist Wisnu Arta Wardana's creativity and undeniable genius bring Killharmonic to the next level.
Tracks from Hymn of the Apocalypse were on the band's set list when performed at the most prestigious metal festival in South East Asia: Hammersonic 2017, on May 7.
Since its inception in 1997, Kilharmonic has released 4 studio albums Hatred Diminished in Dismembered Head (2000), Hate That Never Set (2002), Human Race Disgrace (2010), and Hymn of the Apocalypse (2017); and one EP Supressed Denied Controlled (2009).
Killharmonic's recent formation consists of Wisnu (guitars), Bayu Widyatmoko (vocals), Deny Pandu Purwasanjaya (bass) and B-Lee (drummer).
Wisnu Arta Wardana (known under moniker Innu) is the only remaining founding member.
DROP
Tangerang-based brutal death metal act DROP just released a new music video Consume by Violent [sic] on April 2, 2017 to support their new promotional CD Back to Origin. They have been working to finish their new album, scheduled to be released sometime this year.
DROP was formed in Ciledug, Tangerang, in 2004 by the late Agus Dobol (drums), Andre (guitars) and Firmansyah (vocals). Current line up consists of Andre Nyomeng (guitars), Gaber (vocals) and Wahyu (drums), and additional bassist Raden Aces from Gore Animal.
To date, Drop has released one full-length album Sadistic Independent of Bliss Full in 2012, and an EP Savage Revenge in 2015.
DANTE'S THEORY
Singaporean metal act Dante's Theory has been busy promoting latest album over recent months. Their second EP Amut was just released in April 2017. This year will see Dante's Theory other releases, such as a 2-way split album entitled Hallowed Ground with Malang-based hardcore unit Deathwords in cassette tape format, scheduled to be released at Cassette Store Day on October 4, 2017 by Confuse Records. Yogyakarta-based Diorama Records also will release EP Amut in cassette format this year.
Dante's Theory was founded as Pyro in 1992, and put on hiatus in 1999. The band was reactivated in 2004 and released debut EP Ashes of Revenant in 2008.
Then again the band went for another hiatus from 2010 to 2014, since members could no longer handle the band's hectic performing roster with 2-3 shows on weekends every week, on average every month for two / three years straight.
Remy reformed Dante's Theory in 2016 with current line up comprises Remy (vocals), Naz (guitars), Aaron (bass) and Karsten (drums).
GEROGOT
Surabaya-based brutal death metal act Gerogot is on tour to promote their Cruelty Vomit Hard Tour with new vocalist Krisna. The Boyolali-origin singer Krisna was introduced on the band Facebook on April 27 this year, right after the band threw a launch party for their debut full-length album entitled Cruelty Vomit of Hatred, on 22 April 2017.
The debut Cruelty Vomit of Hatred was released on December 1, 2016 by Bandung independent label Groupies Merch, with founder/guitarist Aditya Prakoso and drummer Dony Ilmi as the only Gerogot personnel involved in the record.
Founded in 2011 as Crematoria, the band adopted new name Gerogot in 2013. Latest line up consists Aditya (guitars), Dony Ilmi (drums), Krisna (vocals) and Iponk (bass).
Previously unknown whether Gerogot could play in Indonesia Deat Fest 2017 or not, since the band had just canceled their headlining show at Hell Reunion in Salatiga, July 29, due to Aditya needed attend his university graduation ceremony at UPN Veteran Surabaya on the same day, its Facebook announced on July 19.
But, don't worry! Aditya spoke to www.Musik.or.id about this issue, and he guaranteed the band will show up at the fest.
The band will play with drummer Seno Ramadhan from Cemetery, since Dony Ilmi's commitment at work forces him to absent.
GENOCIDE
Burmese brutal death metal Genocide will play in Indonesia Death Fest without its frontman Htet Paing Tun, who absent for undisclosed reason. Founder/guitarist Pyae "JK" Sone Thu will be accompanied by guitarist Saw Giftson and live bassist/vocals Adam Scott Delamere.
Genocide revealed their set list in the very show i.e cover of Kaluman's Membusuk Menjadi Sampah, and two songs from their debut EP Sacrificing Night at the Cemetery i.e. Intro + Sacrificing Night At The Cemetery  and Devayakkha Nesivita.  The debut was released independently on May 24, 2017.
The band was founded in 2012 in Yangon, Myanmar. Last formation comprises JK (guitars/drums programming), Htet Paing Tun (vocals) and Saw Giftson (guitars).
ASPHYXIATE
Two singles compiled in a promotional CD entitled Promo 2017 (released on January 21, 2017 by Groupies Merch), mark the return of Bekasi-based death metal giant Asphyxiate, after their last work Self Transform from Decayed Flesh in 2013, released by New Standard Elite.
Facebook said on March 24 this year: "This end year we will back with our 4th full length!!!" means everything to the band's fans.
Founded in 1998 by drummer Reno Sugiyanto, guitarist/frontman Yosef Hutagalung, the late vocalist Dhana and bassist Indra, Asphyxiate's current line up comprises Reno (drums), Yosef (guitars/vocals) and Adhi Nugroho (bass).
Asphyxiate portfolio consists of The Process of Mutilation (2003), Anatomy of Perfect Bestiality  (2009), and Self Transform from Decayed Flesh (2013).
PROSATANICA
Jakarta-based death metal veteran Prosatanica has to make a disclaimer in their Facebook regarding their name, and always answer most questions addressed to them with: "In a brief, this band's name gives a sense of horror, anti God or linked to Satanic. But, it is just a name, there is none related to the member's personality."
Founded in 1994, the band has released two full-length albums Bloody Aggressor in 2002, and Pisau Bernoda Darah in 2016. The latter was released by Samarinda-based Sulung Extreme Musick Records.
Drummer Mono Octaviandy and frontman Bento Mullen are the only members who involved in all Prosatanica works.
The latest line up consists of Bento  (vocals), Mono (drums), Adam Akbar (guitars) and Sigit Tri Hartono (bass).
STAX
Up-and-coming death metal act from Jakarta, Stax, has been dwelling around since 2008, with debut full-length album Negara Hitam in 2015, as their main weapon yet to bombard any stage they pop in.
Stax was founded in 2008 by Boy (drums), Citoy (vocals), Ipank (vocals), Wendi (guitars) and Boby (bass). After several line up changing, the band last formation comprises Uni (bass), Ipang (drums), Boy (guitars) and Kibo (vocals).
SUFFER INFERNI
Cengkareng death metal heroes Suffer Inferni have more than enough materials for a full-length album. In 2016, the band revealed 7 tracks they had for future debut album. Perhaps they have more now. But, the long-awaited album doesn't exist yet.
Suffer Inferni was formed on December 24, 2014. Current line up comprises Hans (guitars), Putu (guitars), Avhoel (vocals), and Ajek (bass).
To be continued to Indonesia Death Fest lineup Part 2