Klinik Jazz bersama Dwiki Dharmawan akan digelar di Unsyiah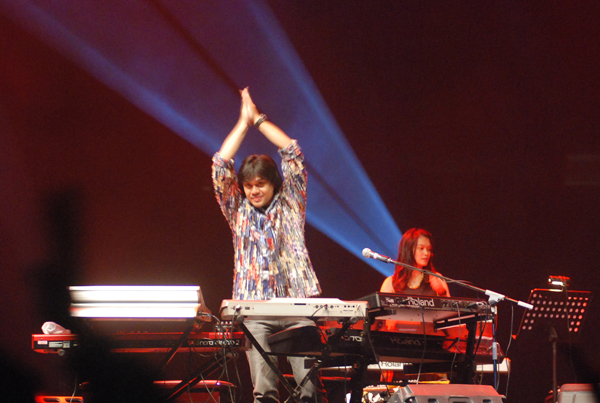 by: MUHAJIR ABDUL AZIS | Minggu, 02 Juni 2013 10:50:00 WIB | Source: ATJEHPOSTcom
MUSISI Jazz nasional Dwiki Dharmawan akan kembali hadir di Aceh. Setelah sebelumnya tampil dalam ajang Sabang Jazz Festival pada akhir 2012 lalu, kini Dwiki akan tampil dalam Klinik Jazz Banda Aceh 2013 yang akan digelar di Gelanggang Mahasiswa Universitas Syiah Kuala (Unsyiah), mulai pukul 14.00 hingga 18.00 WIB, Sabtu, 8 Juni 2013.
Acara yang diinisiasi oleh The Atjeh Times dan ATJEHPOSTcom tersebut dilaksanakan oleh Atjeh Jazz Organizer, yang bekerjasama dengan Unsyiah, Dinas Pariwisata Banda Aceh, Sekolah Musik Farabi Jakarta, FAM Studio, Gabungan Musisi Aceh, Gudang Buku dan Sekolah Musik Moritza. Juga ada radio Flamboyant dan komunitas @iloveacehrayeuk.
Selain itu didukung lembaga mahasiswa di Unsyiah, seperti BEM Fakultas Hukum, BEM Fakultas Teknik, Himapsi Fakutas Kedokteran, Baskom FH Unsyiah, UKM Seni Putroe Phang dan beberapa lembaga mahasiswa lain di Unsyiah.
Ketua Harian Atjeh Jazz Organizer, Ahmad Mirza Safwandy, mengatakan selain Dwiki Dharmawan, Klinik Jazz Banda Aceh 2013 juga menghadirkan musisi jazz nasional lain seperti Agam Hamzah, Adi Darmawan, Gerry Herb dan musisi muda sekolah musik Alfaraby Jakarta, Milky Way, yang bulan lalu tampil dalam Java Jazz 2013.
"Untuk musisi lokal, yang sudah dipastikan tampil Moritza Thaher Trio dan King of Fire & NAD Project," kata Ahmad Mirza.
Dia mengatakan acara tersebut akan dilaksanakan tanpa dipungut tiket. Dalam acara tersebut, kata dia, penonton akan berinteraksi langsung dengan para musisi jazz.
"Dwiki dan kawan-kawan akan memberikan klinik kepada penonton sambil bermain. Ini bukan hanya pementasan, tapi juga pembelajaran," kata Ahmad Mirza.[](ma)