Ketua DPRK Banda Aceh Buka GMA Bassist Day
Banda Aceh (03/06) Ketua Dewan Perwakilan Rakyat Kota Banda Aceh, Yudi Kurnia, Minggu, 2 Juni 2013 membuka acara GMA Bassit Day yang digelar B-Bass Aceh Community yang tergabung dalam Gabungan Musisi Aceh (GMA).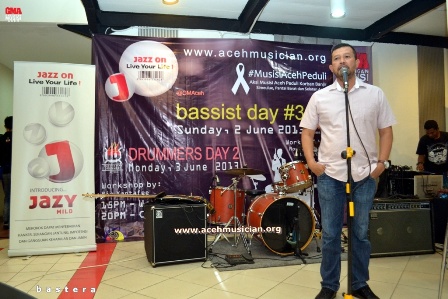 Pada even yang di gelar di Tower Coffe Banda Aceh ini juga digelar workshop dan konser pemain bass yang bertajuk "GMA Bassist Day 3" serta sebuah masterclass dengan tema: "The Fundamentals of Bass Guitar Playing" atau "Membangun Dasar Bermain Bass Gitar". Sebagai pemateri akan hadir Maiwan Syah, seorang musisi dan edukator senior Aceh.
"Masterclass ini merupakan permintaan dari banyak anggota B-Bass Aceh (Komunitas Bassist Aceh) yang juga merupakan lembaga sayap GMA, dengan tujuan untuk mendapatkan pelajaran mengenai dasar-dasar/fundamental bermain bass dengan benar," Kata Ketua GMA Teuku Mahfud.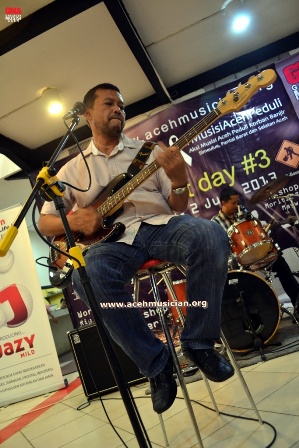 GMA Bassist Day 3 akan diadakan dalam dua sesi, yaitu workshop oleh Maywansyah, Moritza Thaher dan Linda pada pukul 16:30 hingga pukul 18:00 WIB, dan konser para pemain bass top Aceh mulai pukul 20:00 WIB. Konser musik akan diisi oleh belasan bassist seperti Tebonk Muntazier (Inverno), Maywansyah (Moritza Thaher Trio), Moritza Thaher, Wawa (Seuramoe Reggae), Novit, Mirza Safwandy (XantaFee, King of Fire), Ulis (King of Fire), Jefri Hasman (Bang Blues), Devin Elfras (Psycoholic, VellaRocka), Taufik (Kulu 2), Ricky Sushu (Capetown), Becky (Sloky-sloky), Opi dan lainnya.
"Event ini juga merupakan bagian dari rangkaian acara #MusisiAcehPeduli yang diadakan oleh Gabungan Musisi Aceh (GMA), sebagai wujud aksi solidaritas musisi Aceh untuk korban banjir di Simeulue, Pantai Barat dan Selatan Aceh," jelas Teuku Mahfud.[adi]
Source: dprk-bandaaceh.go.id