Event: Message From Helena and Crazy For Fun's Birthday Gig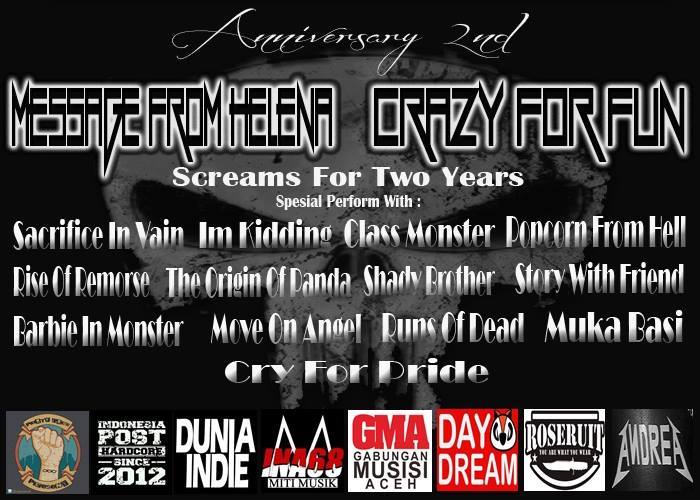 Kana Dhapu Kupi once again will witness a historic rendezvous of Lhokseumawerian young musicians who gather in a gig to commemorate the 2nd anniversary of  MESSAGE FROM HELENA and CRAZY FOR FUN, both Lhokseumawe-based metalcore acts, on November 9th, 2013.
The birthday concert will start at 7:30 PM and will showcase 15 bands that consists of:
Sacrifice In Vain (S.!.V) BAND
Class Monster
Rise Of Remorse
Barbie in Monster
Popcorn from the Hell
Mukabasi
Story With Friend
Shady Brother
The Origin of Panda
Cry for Pride
Runs of Death
Move on Angel
Message From Helena (headliner)
Crazy For Fun (headliner)
MESSAGE FROM HELENA was formed in 4 November 2011 by Gilank (vocals), Tito (guitars), Anggra (guitars) and Odie (drums). Former I'm Kidding bassist, Hilman joined them later, and a synth player Andie was added in the line up. They are part of Party Crew whose bimonthly We Do A Party gig franchise has been delivering rooms for a number of Lhokseumawe-based acts to showcase their talents in last two years.
Check their profile in this article: Message From Helena
CRAZY FOR FUN was formed in September 2010 by Haris. Now it consists of Haecal (vocals), Haris (bass, vocals), Jack (guitars), Lupi (guitars) and Oby (drums).
The gig is supported by Party Crew, Gabungan Musisi Aceh (GMA), Dunia Indie, Indonesia Post-Hardcore, MitiMusik, Day Dream Clothes, Roseruit and Andrea Studio.
***