Agam Hamzah to headline Aceh Jazz Reborn tonight!
After a long pause, the Banda Aceh jazz music aficionados will witness a jazz concert again. The Aceh Jazz Reborn will be held tonight, Sunday, May 21, 2017 at Museum Tsunami Aceh, Jl. Sultan Iskandar Muda Banda Aceh.
The gig marks the unveiling of Aceh Jazz Forum, a new jazz community in town. The Aceh Jazz Forum will showcase local jazz veterans and up-and-coming musicians. Jakarta-based guitarist Agam Hamzah will headline the show, accompanied by local eminent musicians i.e. Moritza Thaher & Friends, Syafrizal & Friends, Hilman Rizqan, Mahrizal Ruby, Maiwansyah, Dindin Achmad, Iwan Soenaryo, Popy Gade, Teuku Mahfud, Yudi Kurnia, Nona, Dara Dali, Adi, Syaifil, Baron Laksamana, Fauzan, Angga, Moeko, etc.
An Acehnese origin himself, Agam Hamzah is known as part of national fame triumphant Ligro Trio with Gusti Hendy (drums) and Adi Darmawan (bass). As a music educator, Agam has been a teacher at renowned Farabi Music School since 2000, and guest lecturer in many music workshops and clinics.
Agam will play with Nadisyah Putra, another prominent jazz guitarist.
A physician by learning, Moritza Thaher is recognized for his dedication in music education and developing a modern Aceh music in 2000's. He was part of Nyawong Project who laid a foundation of future Aceh modern music. The owner of Sekolah Musik Moritza since 1991 (previously known as Moritza Music Club/MMC) has taught many well-known Acehnese musicians.
Moritza will play piano/synth with his long time trio Moritza Thaher and Friends (established in 1994) with bassist Maywansyah and drummer Teuku Mahfud. Former speaker of Banda Aceh Parliament and bassist Yudi Kurnia will join the trio. Acehnese fame poet M. Yusuf Bombang (famous under moniker Apa Kaoy) will sing his "syair" with the trio.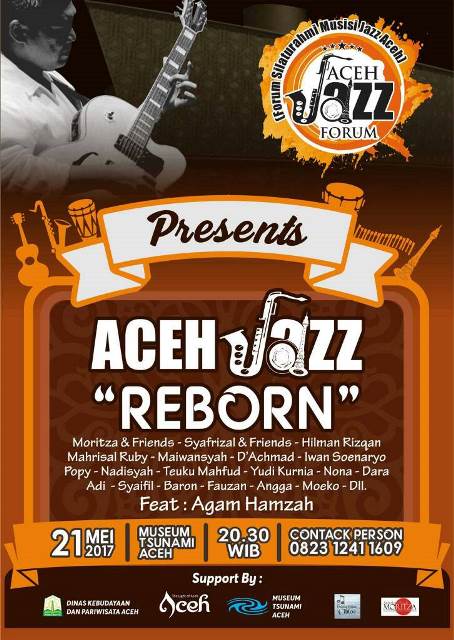 Dindin Achmad Nazmuddin from Aceh Jazz Forum in his interview with www.Musik.or.id spoke about the show and the society. He said they picked Aceh Jazz Reborn as the gig's main theme since jazz was played in many occasions in Aceh, even before Indonesian independence. He expected this gig marks the return of Jazz in Aceh. There will be more jazz events in the future held by the society.
The leader of Aceh Jazz Forum said the institution aims to strengthen the relationship between Acehnese jazz musicians and enthusiasts.
Dindin, a Bandung-origin percussionist, has been playing with Krakatau, Adjie Rao Unlimited Percussion, Vicky Sianipar, etc. The alumnus of ISBI Bandung now is a faculty in ISBI Aceh.
The show is free of charge, and gate will be opened at 8 PM.
Aceh Jazz Reborn is supported by Aceh Cultural and Tourism Office, Museum Tsunami Aceh, Rumah Musik Cibloe and Sekolah Musik Moritza.
*****