Panggung BANDUNG BLACK METAL #4 pindah ke lokasi baru
Read English article about the show here: Promoter announces to relocate BANDUNG BLACK METAL #4 to a new venue
ABYSSIA ORGANIZER mengumumkan hari ini (04/03) lokasi konser BANDUNG BLACK METAL #4: Return Blackness  akan dipindahkan ke tempat baru.
Gugum dari ABYSSIA berbicara dengan www.Musik.or.id, mengatakan penyelenggara konser memutuskan untuk memindahkan venue dari Fame Station ke K2 Bar & Resto, Jl. Dewi Sartika, Bandung karena alasan teknis yang tidak bisa diungkapkan. Gugum yang merupakan leader dari komunitas Cadas Underground menyatakan letak lokasi baru yang tepat di tengah kota akan memudahkan calon penonton untuk datang ke sana.
Tidak terdapat perubahan besar di dalam skedul dan line up. Tujuh belas band black metal masyur dijadwalkan akan menghitamkan atmosfir K2 Bar and Resto pada hari Minggu, 9 April 2017 dari jam 12 siang hingga selesai.
Adriel Ramdhani dalam interviewnya bersama www.Musik.or.id Februari lalu mengatakan Bandung Black Metal merupakan ide dari Gugum dan rekan-rekan di Cadas Underground. Diselanggarakan untuk pertama kali di Kopo Shopping Centre Hall, Bandung pada tahun 2015. Gig ini dimaksudkan untuk menyatukan para penggemar musik black metal di Bandung Raya.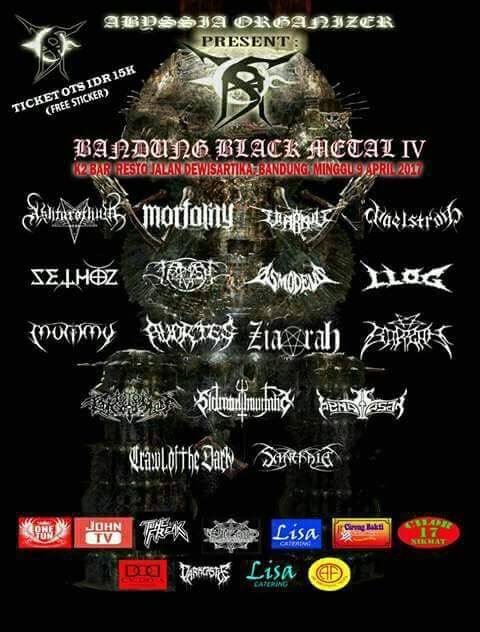 FINAL LINEUP
WARKVLT (Bandung)
ASHTAROTHUM (Bandung)
MORTALITY (Bandung)
MAELSTROM (Bandung)
IMPISH (Bandung)
MUMMY (Bandung)
SETHOS (Bandung)
CRAWL OF THE DARK (Bandung)
ASMODEUS BDM (Bandung)
AVORTES (Bandung)
ZIARAH (Bandung)
BARZAH (Bandung)
LLOG (Tasikmalaya)
SANEKALA (Bandung)
PENATASAN (Cilacap)
SIDROTUL MUNTAHA (Majalengka)
KARUHUN IBLISH (Bogor)
Tiket akan dijual di venue seharga 15 ribu perak dan akan memperoleh bonus stiker. Untuk informasi lebih lanjut, kamu bisa menghubungi  Andriz di BBM 5F0B34E3.
Bandung Black Metal 4 didukung oleh: One Tun Kaos Polos, John TV, Tone Freak,Wizard Production, Darkcastle, Cireng Bakti, AF Production, CV. DO'A, Lisa Catering, and Cilor 17.
*****
Baca artikel terdahulu mengenai Bandung Black Metal di sini