FEDORA is a groove brutal death metal act from Bandung, West Java, Indonesia. Founded in February 2012 by punk rock drummer  Erwin Muhamdan a.k.a Ermes (ex-Streesberat), who wanted to experience a totally new musical journey: playing in a death metal band!
Ermes talked to guitarist Panzi Raditya in his home in Ciparay, South Bandung, and they agreed to collaborate to form a new death metal band labeled Fedora.
To complete the initial formation, the twosome started finding other musicians. Panzi then brought in his relative Saeful Eka Jatnika (known under moniker Kojek), a guitarist from punk rock band The Voct Chaos. Kojek then took along with him the remains of Voct Chaos members bassist Enang Cahayana and frontman Wahyu Sulaiman a.k.a Daday.
The new-established Fedora then gigged hard in many studio gigs and metal concerts around West Java.
In mid 2013, bassist Enang quit the band to focus in his work. Fellow Dian "Ceper" Permata Surya was recruited to fill the vacant bass position. Ceper and Fedora played for the first time at Mirat Ngagorowok, a metal fest held in Majalengka on December 29, 2013.
Life Behind Human Vanity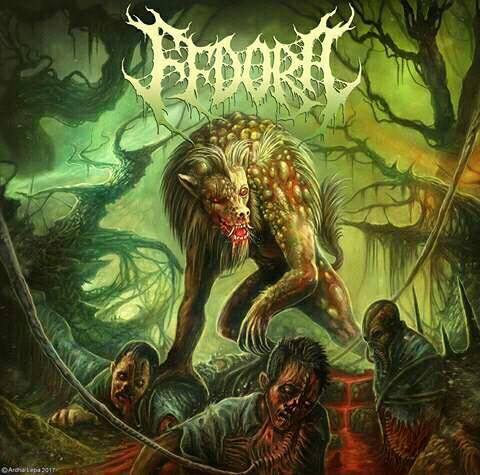 Fedora entered Extend Studio, Ujung Berung to record their first single Revolusi Suci in March 2014. After the single release, co-founder Panzy departed due to his commitment at work.
Ermes and Fedora continued to work in Extend Studio in May 2014. Single Uang Tidak Sama dengan Tuhan was released subsequently. Another four new tracks were recorded, mixed and mastered by Deddy Beer, the studio's house engineer. The recording session was finished in October 2016.
Bandung's death metal veteran Fachmy Bleeding (vocalist of Injected Sufferage) recorded his voice in track Life Behind Human Vanity.
The band inked a deal with Bandung-based independent record company Horrible Creation Extreme Musick Media in October 2016 to release their first EP titled Life Behind Human Vanity. The deal was officially announced by the label on February 13, 2017.
On April 3rd, 2017 The Fedora's Facebook fan page revealed the cover art for the debut EP. The cover art was done by artist Ardha Lepa, and the band's logo was designed by Gencuy BrutalArt.
The Life Behind Human Vanity was released on April 30, 2017 in CD format consists of songs Berhala Berharga, Kontroversi Bidadari, Pembunuhan Karakter, Life Behind Human Vanity and Uang Tidak Sama dengan Tuhan.
***
Founding member/drummer Ermes in his interview with www.Musik.or.id told the idea behind Fedora name came from fellow Bandung-based metal band who used the name of Greek myth Medusa. He and Panzy then conducted a small research to find out what Ancient Greek name fitted their new band. Fedora means gift of God.
Ermes said the band is heavily influenced by Dying Fetus, Dehumanized, Internal Bleeding, Gorgasm, Kaluman, Jasad and Bleeding Corpse.
MEMBERS
CURRENT MEMBERS
Wahyu "Daday" Sulaiman – vocals (2012 – present)
Erwin "Ermes" Muhamdan – drums (2012 – present)
Saeful "Kojek" Eka Jatnika – guitars (2012 – present)
Dian "Ceper" Permata Surya – bass (2013 – present)
FORMER MEMBERS
Panzi Raditya – guitars (2012 – 2014)
Enang Cahyana – bass (2012 – 2013)
DISCOGRAPHY
2017 –  EP Life Behind Human Vanity (Horrible Creation Extreme Musick Media, Bandung)
CONTACT INFORMATION
Facebook: Fedora IDDM
Email: ermesfedoradm@gmail.com
Instagram: @fedoraiddm
Youtube : fedoradm
BBM: 5E747356
Booking: 085759409667 (Ermes)
Address: Jl. Kawung Sari No. 199 RT05/11, Kel. Wargamekar, Baleeendah, Bandung Regency.
*****